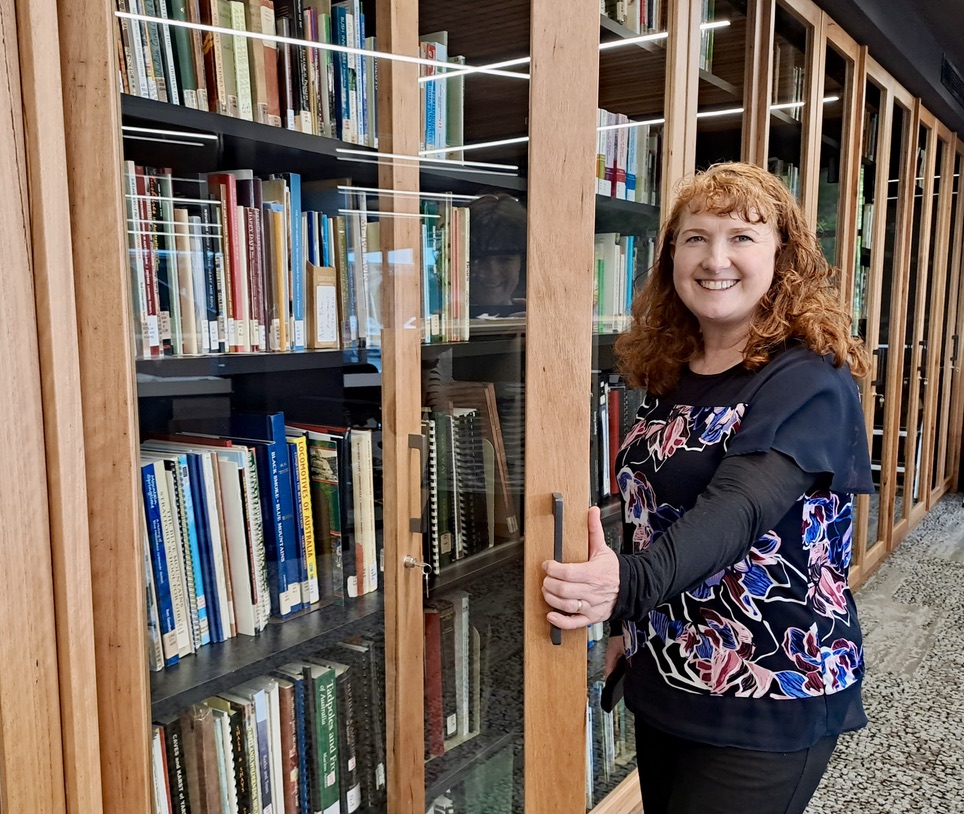 Vicki Edmunds, Manager of Community, Library & Customer Services, in the local reference section of the refreshed Springwood Library
Story and photographs by Madison Roland-Evans
Libraries are a constant, quiet feature in the lives of Australians across the country. Through our early years, we learn to listen to stories, sound out words, and play in small groups from inside the library's insulated walls. In primary school, the library becomes a place of self-directed learning, exploring what you're interested in outside of classes. Then there's high school, and the stakes get higher: can I find that book I need for that essay in time? Can I stay in here and skip a class unnoticed?
Once we leave school, libraries can play a backseat role. Libraries did manage to feature strongly in my travels as a young adult. They were a place to charge my phone, fill my drink bottle, sit somewhere heated or cooled for free, and read a local magazine, generally when on the way somewhere else. I never fell asleep in the library for fear of offending the librarians, but I did consider it when waiting for night buses. It wasn't until I took on tertiary study, and later when my friends started having kids, that I saw the central role that libraries play in our communities.
I spoke to Vicki Edmunds at Blue Mountains City Council, about my relationship with libraries across time, and heard about her passion for connection through library services. Vicki's energy pours out of her. In her role as Manager of Community, Library and Customer Services, she has her finger on the pulse of how we use libraries and how to constantly improve what they offer.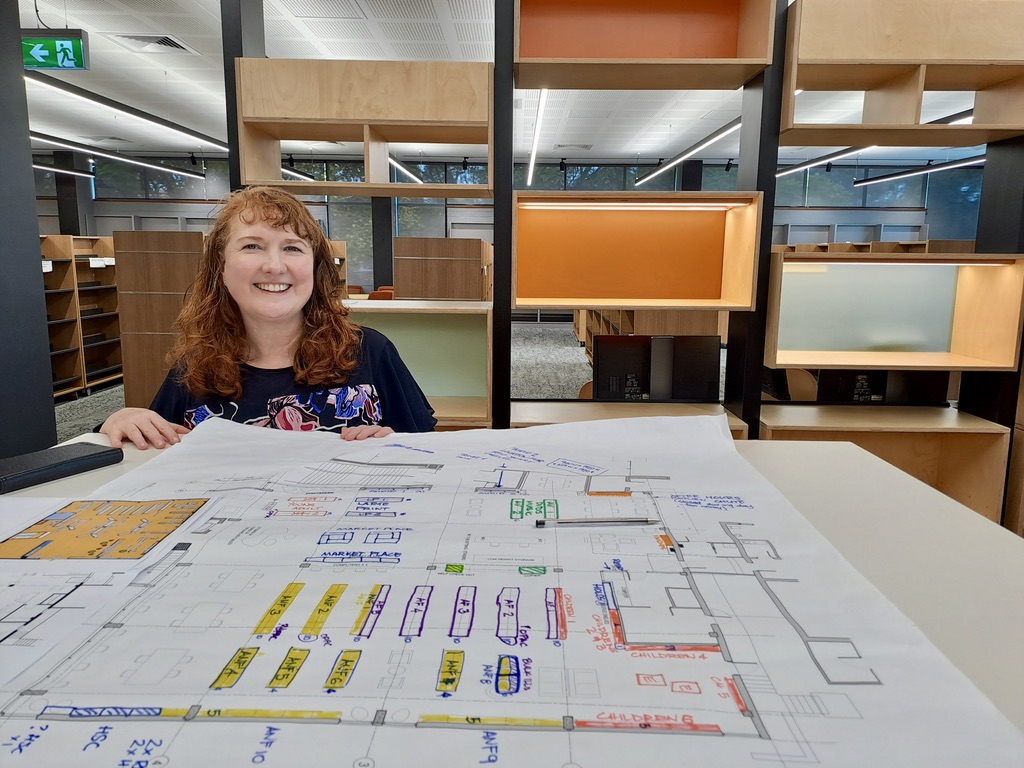 Vicki is visibly excited. She tells me the refreshed space will offer increased accessibility, comfort and collaboration space, as well as a separate area for local service transactions.
Undertaking studies in Planetary Health
Her drive for community resilience was piqued when Blue Mountains City Council launched their vision in 2020 to establish a leadership centre for planetary health. When she heard the overall vision for Planetary Health across the Mountains, she was excited to deliver it in plain English for the whole community.
"I thought in order to make this succeed at a local government level, I need to convince the community and inform the community, but in a really accessible way."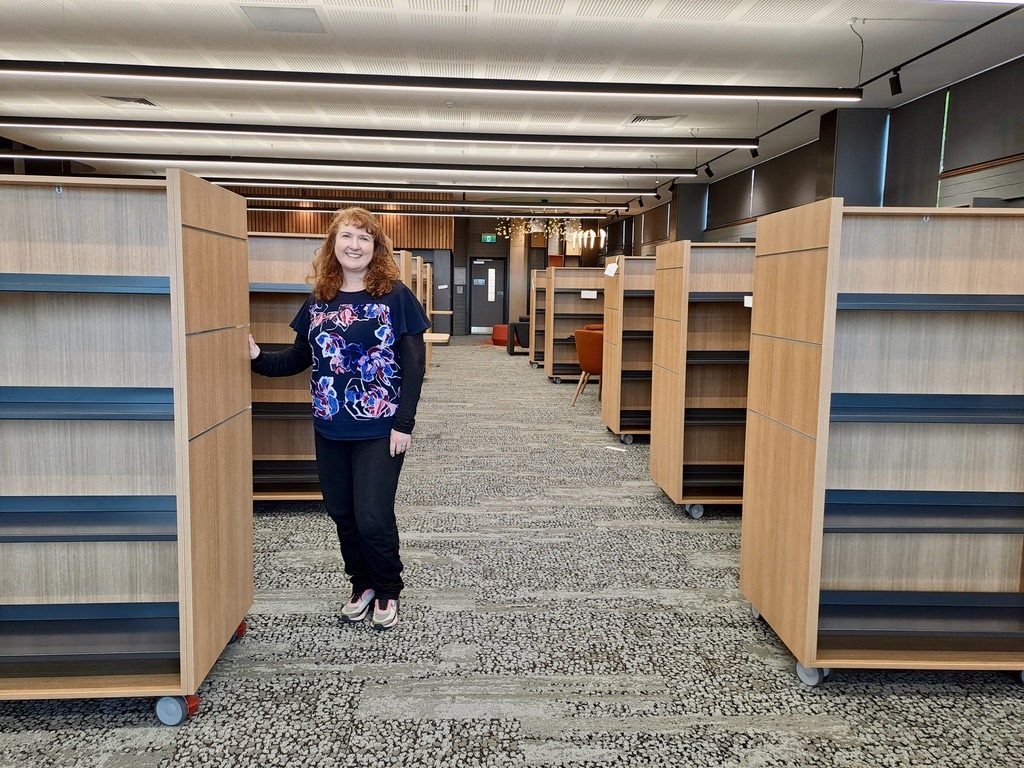 Vicki shows me around the newly renovated library in Springwood. The books are almost in!
Vicki went on to complete a Graduate Certificate in Planetary Health at Victoria University. She lights up when she talks about the program. She describes the active learning process that the course involved, such as reporting on a local climate activism group that she didn't previously know about, or taking the position of a crop farmer along the Murray Darling Basin in a class debate.
"You go in with a certain idea and then you go, oh, hang on, not everything is portrayed as you think, especially if you just read newspapers."
Judging books by their coverings – bioplastic ones if possible!
"One of the hardest things that we have in libraries is that we cover a lot of our books in plastic for their longevity. So, you know, it can go through 50 people and you can wipe them down … but does it have to be plastic?"
During the Planetary Health course, Vicki looked into alternatives already in use internationally. With the essay she wrote on the topic, she approached an Australian manufacturer, who is now exploring a bioplastic book covering option.
An interview with Vicki Edmunds in October 2021 when she was studying Planetary Health:
Libraries supporting communities and providing a safe haven
Vicki works with library staff to build on programs that strengthen community and planetary health goals. One contribution is the huge role that libraries can play in disaster preparedness. During the 2013 fires in Springwood, "people were evacuated from their street. They would then come to the library during the day with their children, spend the day in the library and then sleep over at the club". The library provided a family friendly atmosphere and a point of difference to areas allocated for sleeping.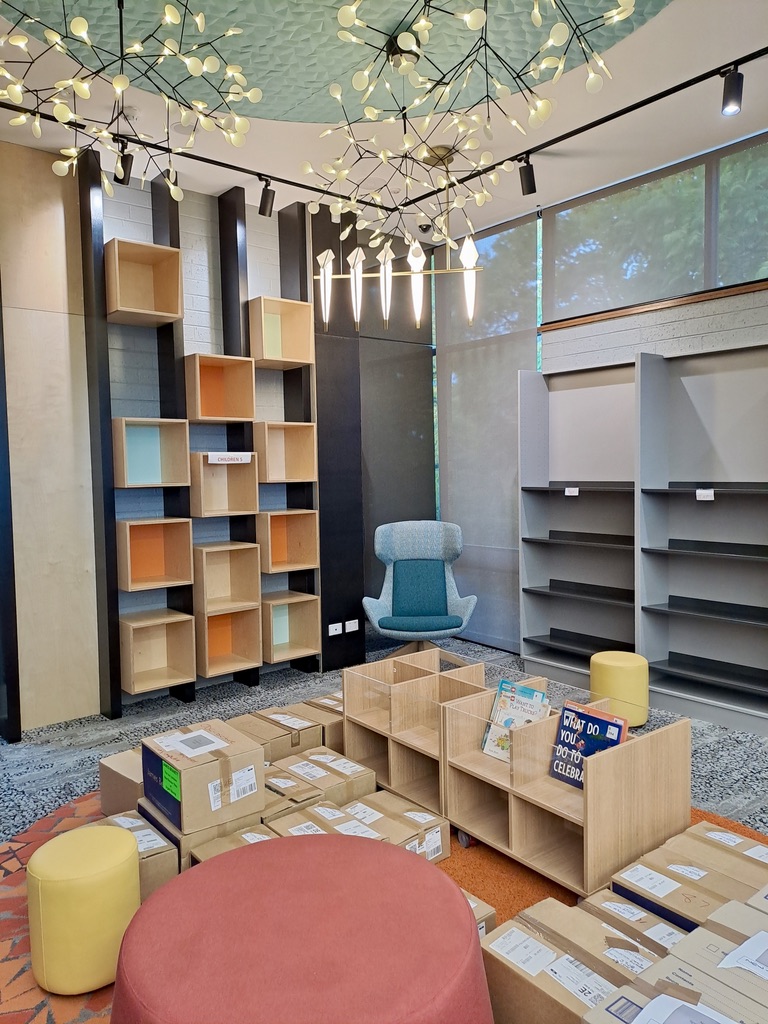 An inviting space for all ages to retreat to
Assisting local residents with emergency planning
Vicki saw an opportunity in the community to support individuals with making disaster plans. The libraries have developed take-home resources to help people do this, and there is a particular focus on people who live alone.
"So, if you live by yourself, what is your personal emergency plan?"
For example, she tells me about the process of working with her parents on their own plan. On a high fire danger day, they recognised that the best plan is not to wait for the emergency message to evacuate. Now, they have a plan in place where they pack the car and wait out the day in a coffee shop. That way they don't need to be waiting to be rushed out of home without their medication or clothes.
When I ask her how the library plans to support the local area for potential future emergencies, she says calmly, "We'll just continue to do what we do. So, you know we're the safe place during open hours."
Vicki mentions the energy sharing that libraries provide. During winters, residents will frequent mountains libraries so they don't have to heat their home until evening: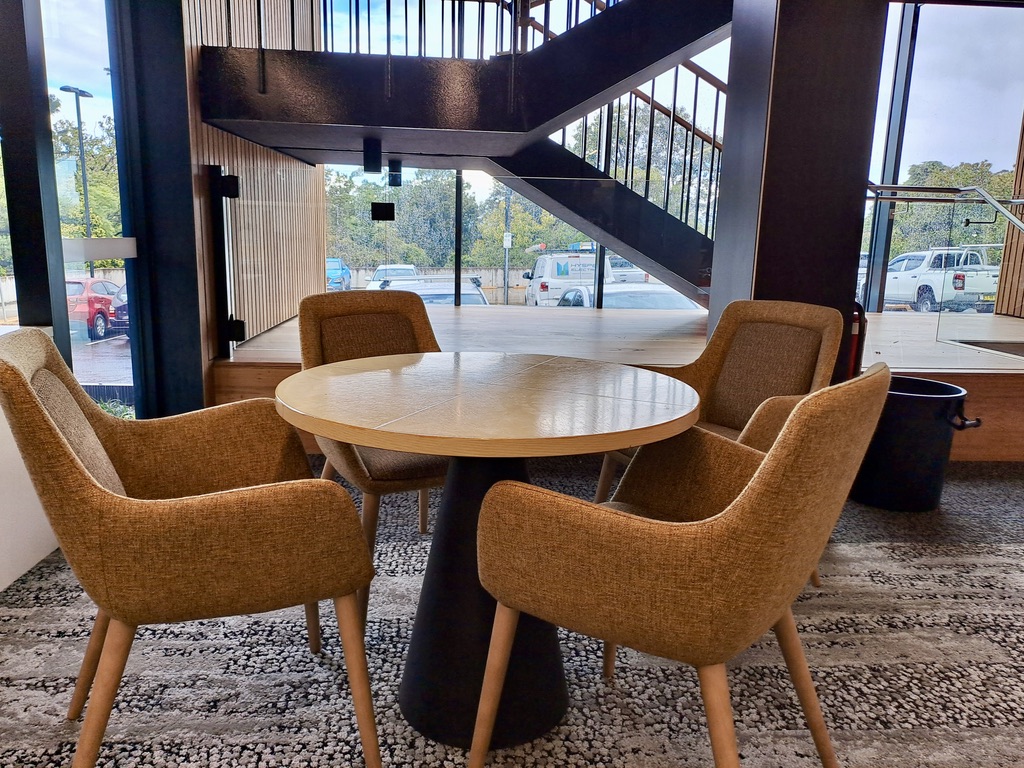 Comfortable waiting areas!
Renovations which connect to natural light and the expansive bush
Springwood library is almost finished its renovations now. To bring the natural light inside and the feeling of the expansive bush, the public will be able to enjoy "a huge floor to ceiling view across the Sassafras Gully". It has been worked on by the same interior designer who designed the Katoomba library renovation. "The community like to see the outside reflected inside. Which is why over at Katoomba library there's a lot of wood panelling and greys and greens to reflect the bush."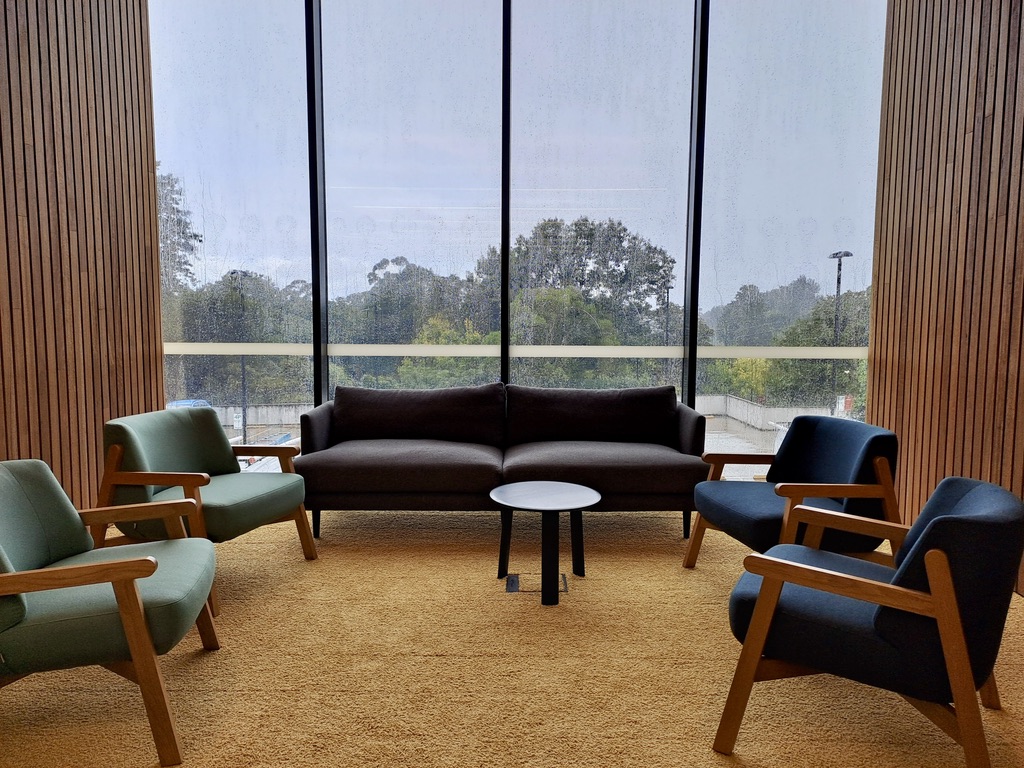 Comfortable spaces and great views
The designer has also taken into account budget constraints inherent to a smaller city, and a desire to reduce consumption. In place of timber panelling, the tones and feel of timber are included by using a high end veneer. The timber look can go a lot further, with less trees and expense. Instead of new furniture, the library renovations use a lot of second hand items from a warehouse that recycles office fit-outs.
"They are hardly second hand and really high end."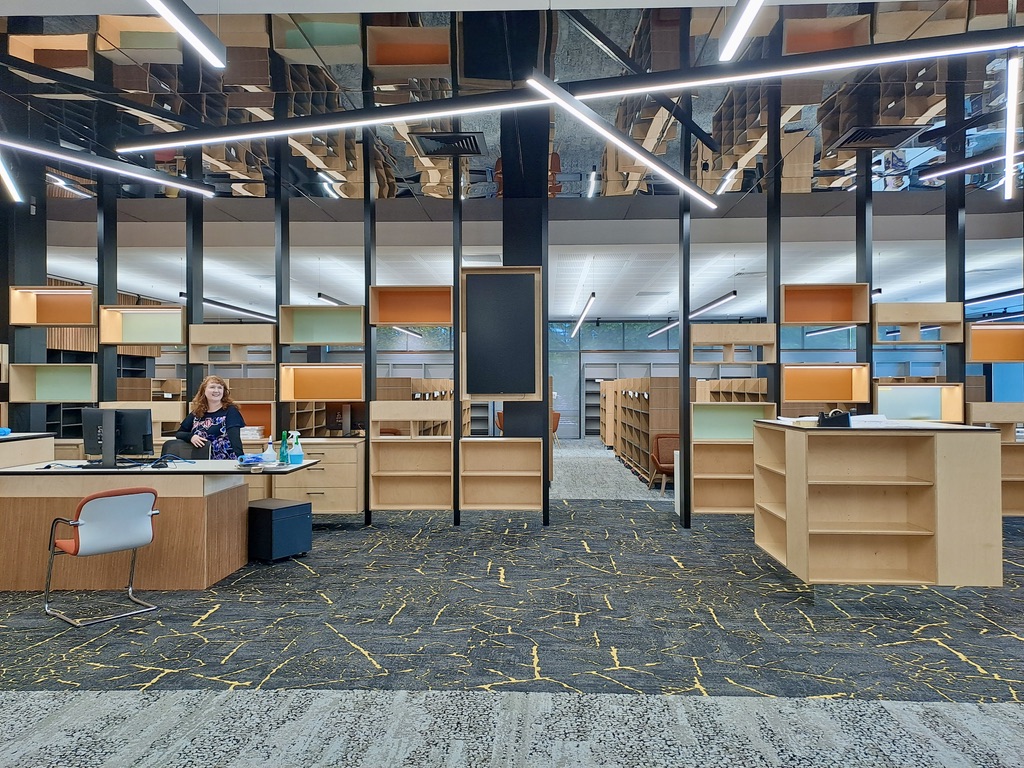 View from the main entrance. Library users are guided around the space through the use of different design features, like this change in carpet design which directs you to the information desk.
Springwood library is reopening very soon. The renovated space will offer more collaboration spaces for people to make use of the library, with lounges, computer desks, updated air conditioning and views of the gully. Watch this space for more programs to come out of the refreshed space.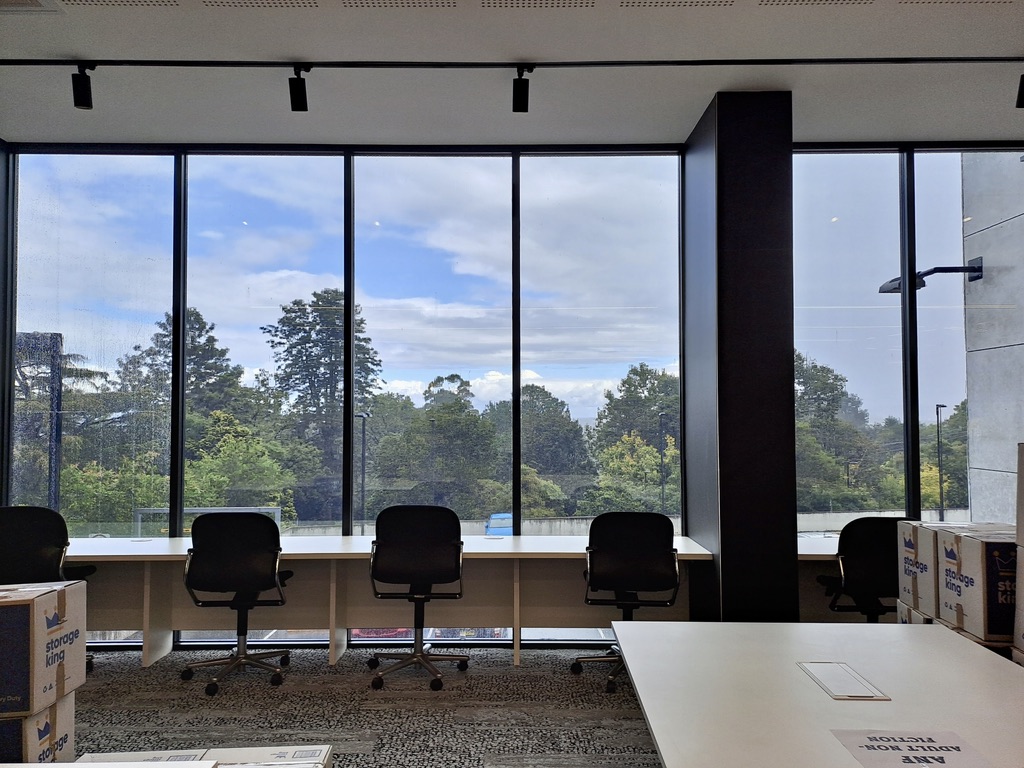 Study areas with natural light and great views
This story has been produced as part of a Bioregional Collaboration for Planetary Health and is supported by the Disaster Risk Reduction Fund (DRRF). The DRRF is jointly funded by the Australian and New South Wales governments.