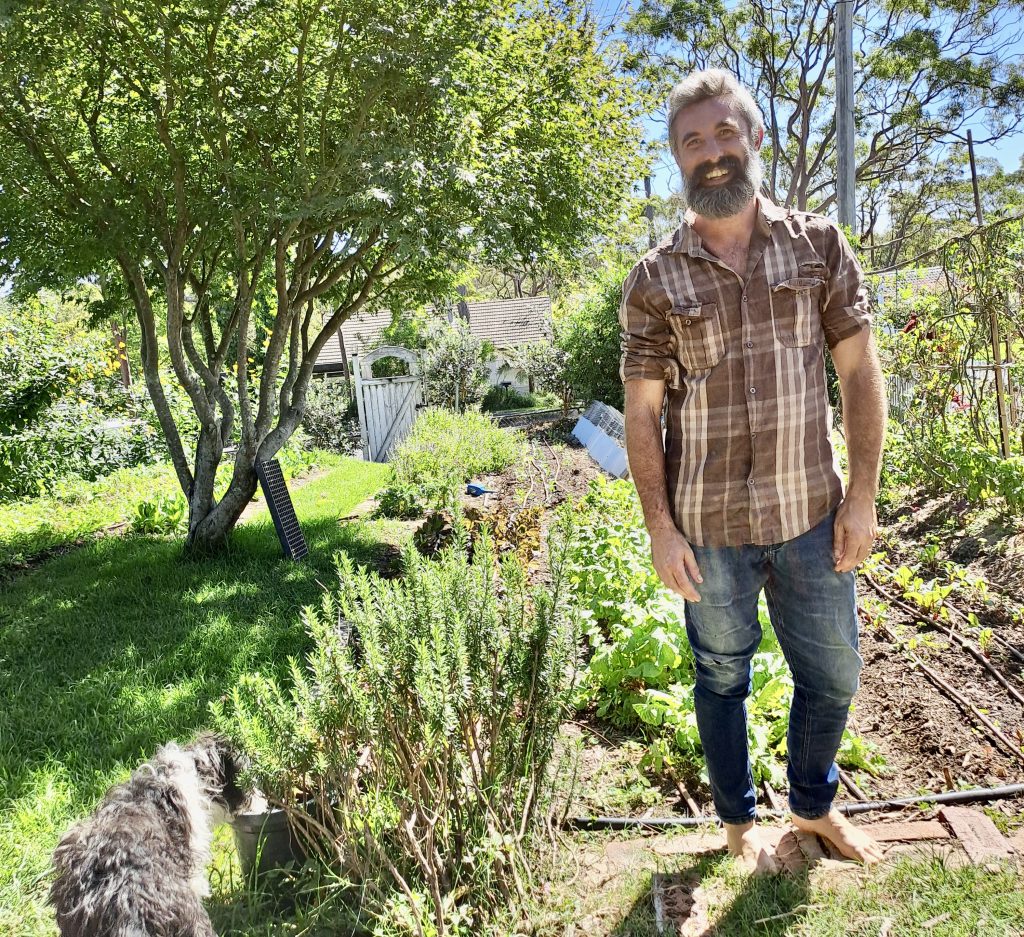 Joe Tabone
Story and photographs by Madison Roland-Evans
I meet Joe at his corner Springwood block on a quiet morning in March. I've come prepared with a thermos of coffee – an offering learned from many morning teas and chore breaks working on other people's farms. The difference here is that Joe farms right out the front of his home, a stone's throw from the kitchen, so there is no need to bring a brew as if we were trekking into the fields.
The pair of teachers started growing for themselves and their kids when they moved to the area 15 years ago. Even with more family nearby, and monthly 'Crop and Swaps', they weren't getting through all their produce.
The Crop and Swaps were a place for local gardeners to get together once a month and swap produce – lemons for eggs, pickles for lettuce – as well as seeds that people harvest and dry themselves. These local seeds mean more gardeners can grow plants that do particularly well in the climate and soil specific to Springwood. Joe is a big believer in saving and regrowing seed on an ultra local scale. These activities are now continued by the Blue Mountains Seed Savers group, and a facebook-based swap group.
"We turned our driveway into a greenhouse," Joe laughs as we inspect the narrow plastic tunnel they built to start their own seedlings. As the growing seasons went on, they learned the value of planning their planting cycle. They realised that they could harvest a whole lot more, if they had seedlings ready to go in, rather than planting seeds directly into the beds.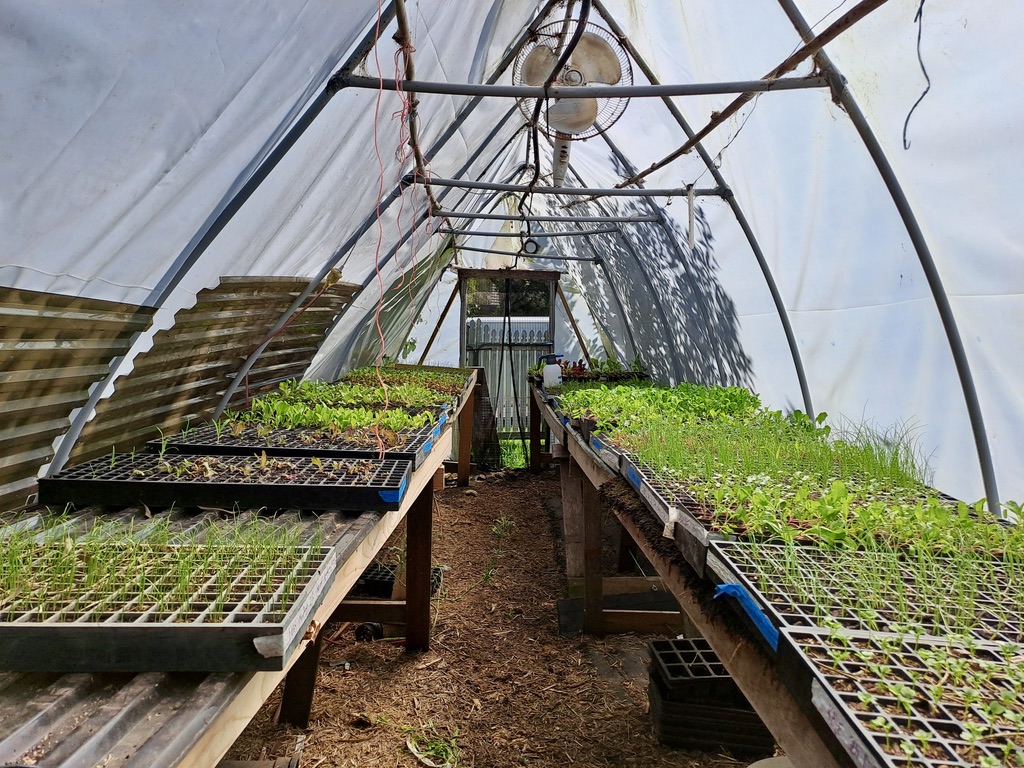 Greenhouse and seedling trays
About 6 years into growing for home use, Alice from the local swap group, who also runs a market garden in the Hawkesbury, asked Joe if he had considered taking his garden to a commercial level. "It literally had never occurred to me!" This suggestion, and an increasing desire to spend more time growing, was the tipping point to move from 'backyard' to 'market' gardening.
The One Tonne Challenge
As the gardens grew, the family set themselves a 'One Tonne Challenge'.
"We started weighing everything. We had a chart up on the blackboard, and the kids got into it. It was really good fun. We were weighing everything from eggs to carrots to lettuce …"
To up their efficiency in the small space, Joe and Jo initially learnt everything from books and Youtube, particularly US urban farmer Curtis Stone and Jean Martin-Fortier from Canada. Joe got a few seasons under his belt assisting on two other established farms. Now, as an established grower himself, he sees the value of mentoring others.
While they didn't quite reach a tonne that year ("just shy of 600kgs"), Joe tells me, the challenge evolved into selling for the Lawson Magpie Markets. Four seasons later, a bad weather day had them thinking there could be another way to retail their produce. The couple began selling to customers directly from their house.
"Our first customer was a guy called Theo. He's bought from us every single week for the last four years. He's just been so committed. He'd turn up every Saturday and get our veggie box. I think the first year we had four regular customers." He laughs. "I was over the moon. And it just evolved. We've been growing for market officially now for at least seven years."
During the continued lockdowns, their customer base grew. Residents realised that their food was coming from a long way away. "People started wanting to know if we had seedlings for sale, if we had seed, if we had vegetables. So everything just ramped up."
Market Gardening
Market gardening is making a comeback with farms like Urbavore. It relates to low till practices, less mechanisation, and small to medium scale vegetable farms. The practice had almost been forgotten, but is still within living memory, particularly around efforts during WWII. The Australian Women's Land Army was one of the big names. Women who were not employed in factories joined the effort by growing food, for home and for sending to troops. There are still remnant pockets of farms in the plains and Hawkesbury area that hark back to a time when each village of the Blue Mountains was peppered with orchards, livestock and vegetables for sale in the immediate area. A time before Sydney's food supply was hauled over the mountains from the Central West.
Joe & Jo's aims are more than nostalgic. By growing food for sale to locals, they have not only built an income for their family, they are also shoring up resilience within the local food supply. They hope that more growers join the effort. Joe is concerned about land shortages and increasing urban sprawl across agricultural land: "We need to start thinking about how we integrate food production back into urban spaces."
Community Composting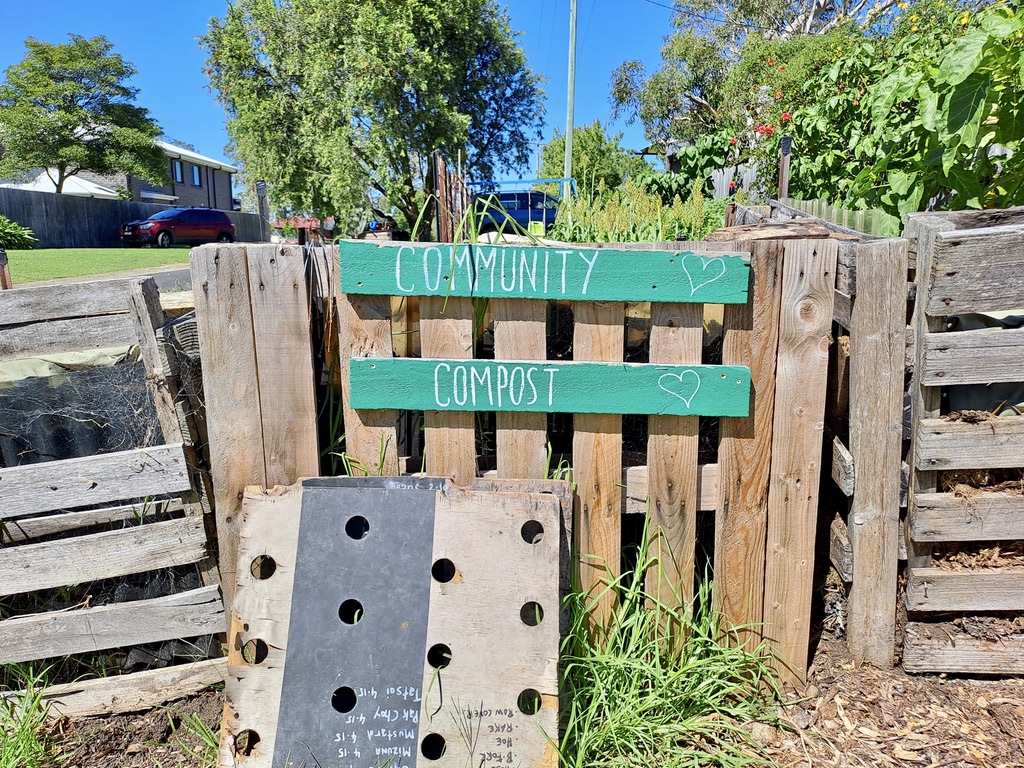 Community compost
For the front yard block, the pair make all the compost they need to keep the space producing food year-round. Neighbours can drop off their organic waste in a Community Compost. With the help of a few chickens (and millions of soil bacteria), they make at least 1 cubic metre of compost a month. Turning it by hand is labour intensive, but the pay off for healthy veg is a win. Rather than slower, static compost that many of us would have at home, hot compost can have a 1 month turn around. Instead of tilling the soil and adding synthetic fertilisers to boost growth, the existing soil structure remains in place. This is important for the microscopic networks in there, and nutrients are added back into the soil through the compost. Joe tells me with a smile, "Compost is almost an all-round solution".
The final piece to the puzzle has been workshops. Both teachers by trade, Joe & Jo tend naturally toward educating. After featuring in the Edible Garden Trail, there was so much interest in what they were doing that they started offering workshops. You don't need to have plans to become a farmer to make the most of what they have to share – their workshops will get you off to a good start growing on a home veggie patch.
The scale here is truly micro, yet Joe's efficient approach packs a punch. From Spring through to Autumn he supplies veggies to 20 local households a week, as well as a weekly supply to both of the Mountains food co-operatives and Nom Bulk Foods in Blaxland. This is all from the 200m2 in his front yard, and now an additional quarter acre that he rents off site.
While it may be tiny compared with vegetable operations further afield, Joe's micro farm design and business is well planned, considerate of his climate and specific Springwood context. His learning has shown that "you don't necessarily need an enormous amount of space, you just need to be well organised. And whenever a gap opens, compost goes down, transplants go in".
A few days before harvest, locals can go online and choose individual items. This way, you have the flexibility to pick up just some herbs, or a whole veggie box. Seasonally there are mushrooms too, and quail eggs. Come Saturday morning, the farm-gate on the corner opens up for a few hours for you to pick up your order.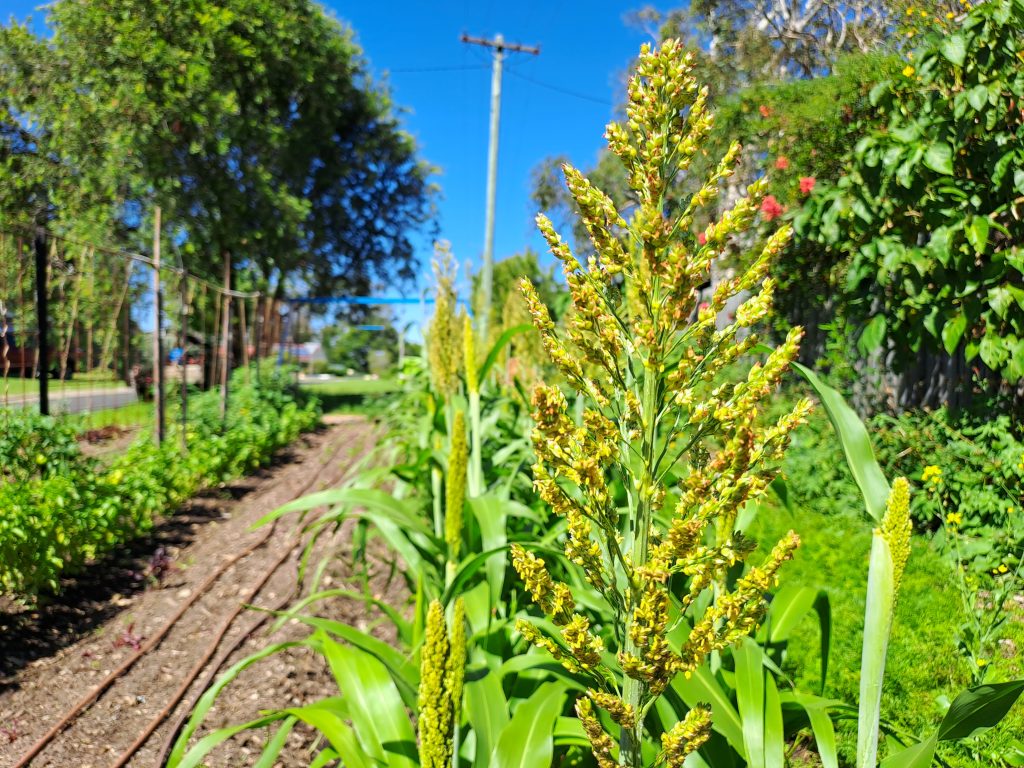 Growing Sorghum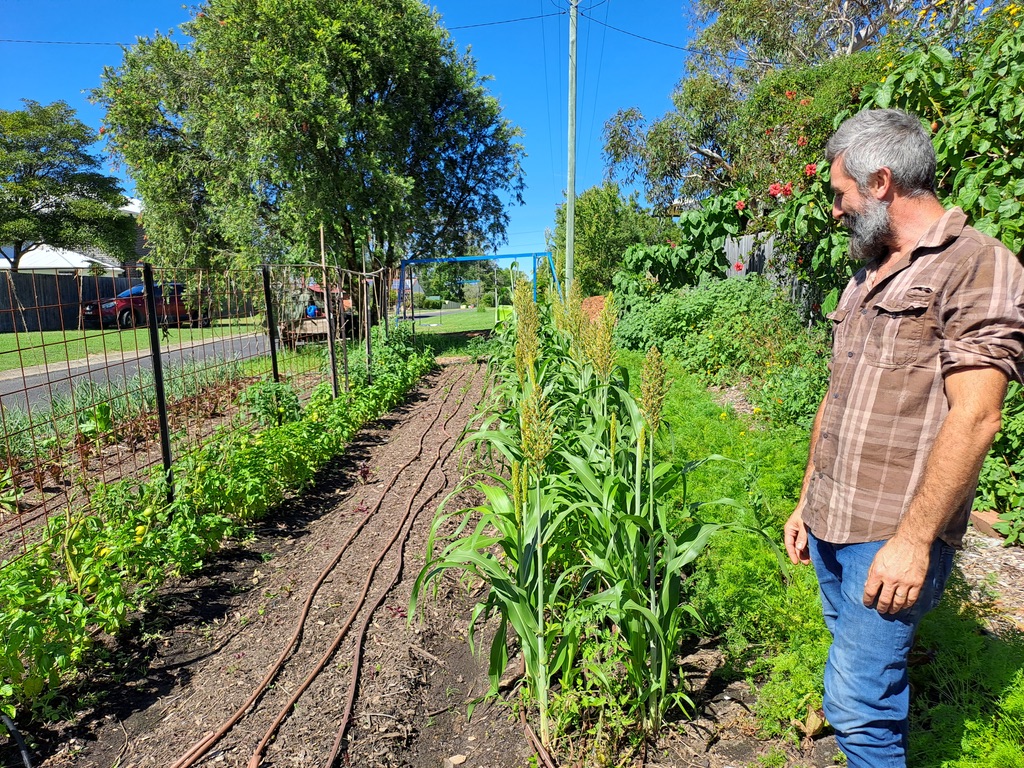 They even grow grains! Joe got into grains as an experiment, in how much they could grow for their family of seven. "We've done rye, wheat, oats. We made bread and pasta out of that. We went through the whole process which was awesome".
There are currently a few rows of sorghum on the verge, fattening up nicely in the warmth. They are anticipated by local brewer Craig at Brew Mountains Brewery in Valley Heights, for a try at a gluten-free beer. "I'm really interested to know what that volume is going to be like" Joe says. Sorghum, I learn, is likely to have a larger yield per square metre, which makes it a hopeful candidate for this micro scale of growing.
So what's happening right now at the farm?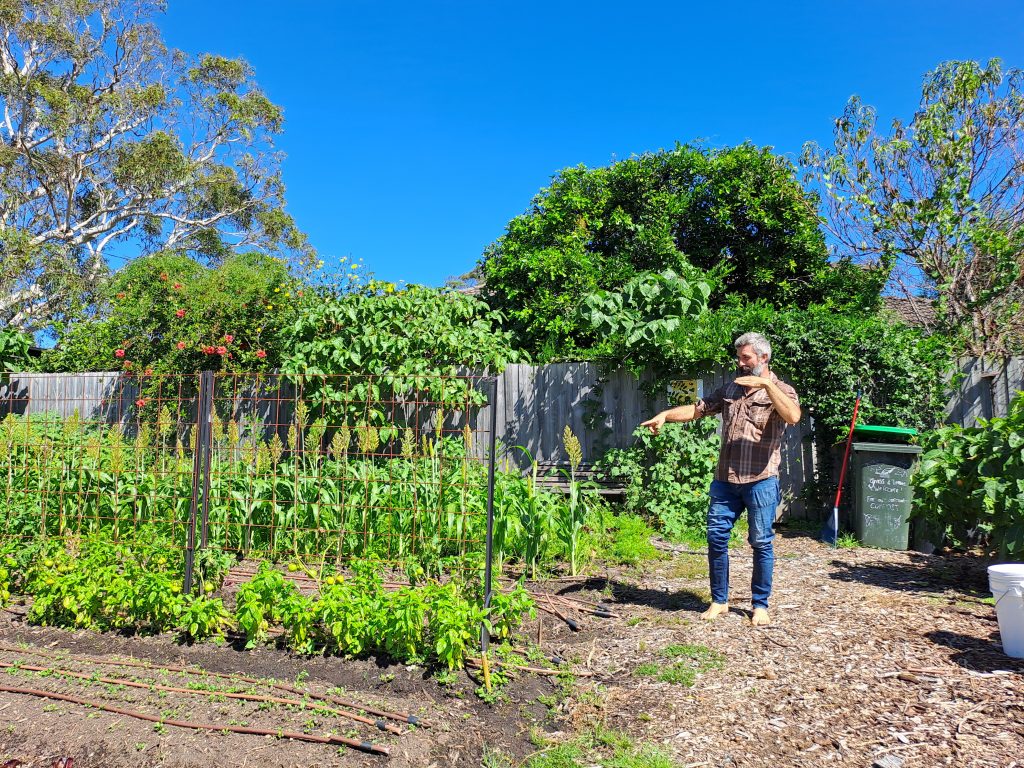 Joe in the garden
If you don't have space for garlic, there's a heap of other things to get in the ground instead, before the soil temperature cools. Joe says they are now "putting in a lot of root veggies, leafy greens." Thankfully the Springwood Area has a slightly longer time frame than the Upper Mountains to get winter crops established.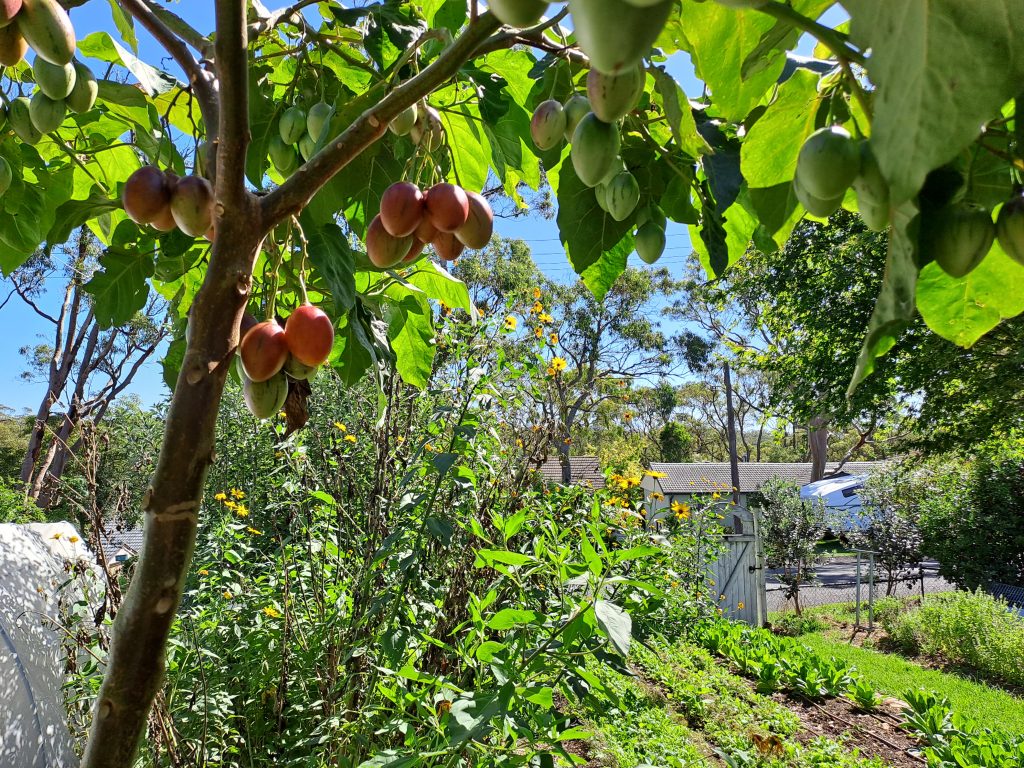 Ripening tamarillos
Another great resource for home growers is using the Gardenate app. It's a free app that you can set to your growing area, and it will let you know what crops to plant when.
A visit to Joe & Jo's farm gate is always a good idea too! They're demonstrating how to build a viable farm on a suburban block.
Urbavore offers an alternative fresh food option to Mountains residents, allowing them see where their food is coming from, and demonstrating how we can all contribute to building food security locally.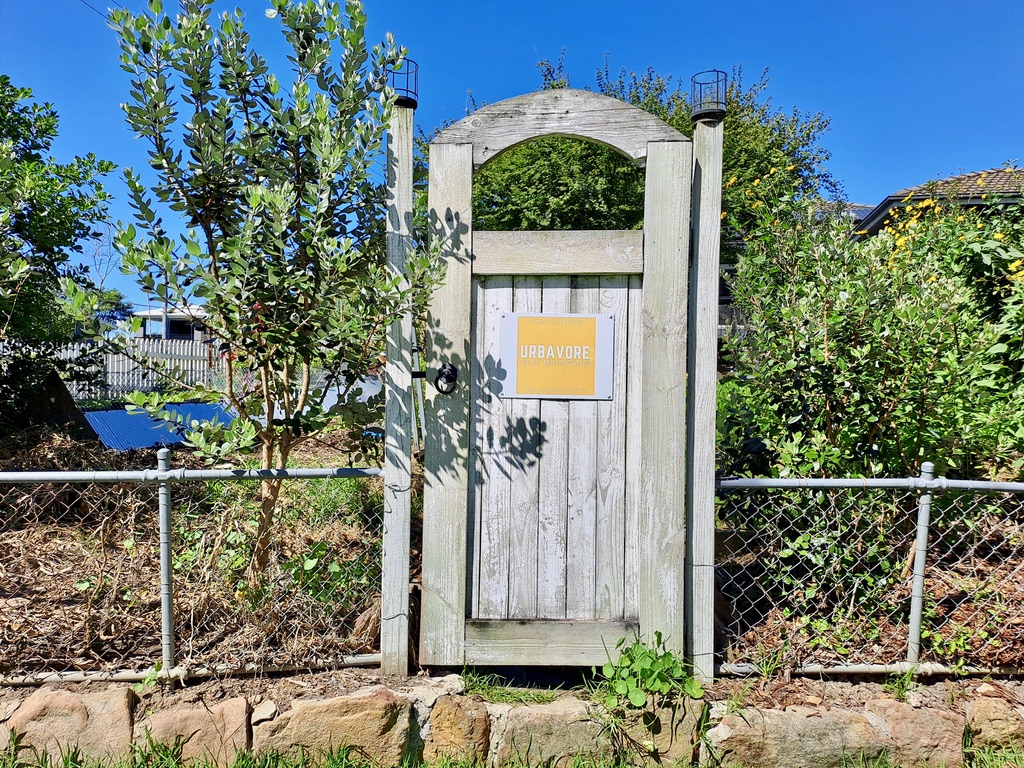 Urbavore's front gate
This story has been produced as part of a Bioregional Collaboration for Planetary Health and is supported by the Disaster Risk Reduction Fund (DRRF). The DRRF is jointly funded by the Australian and New South Wales governments.