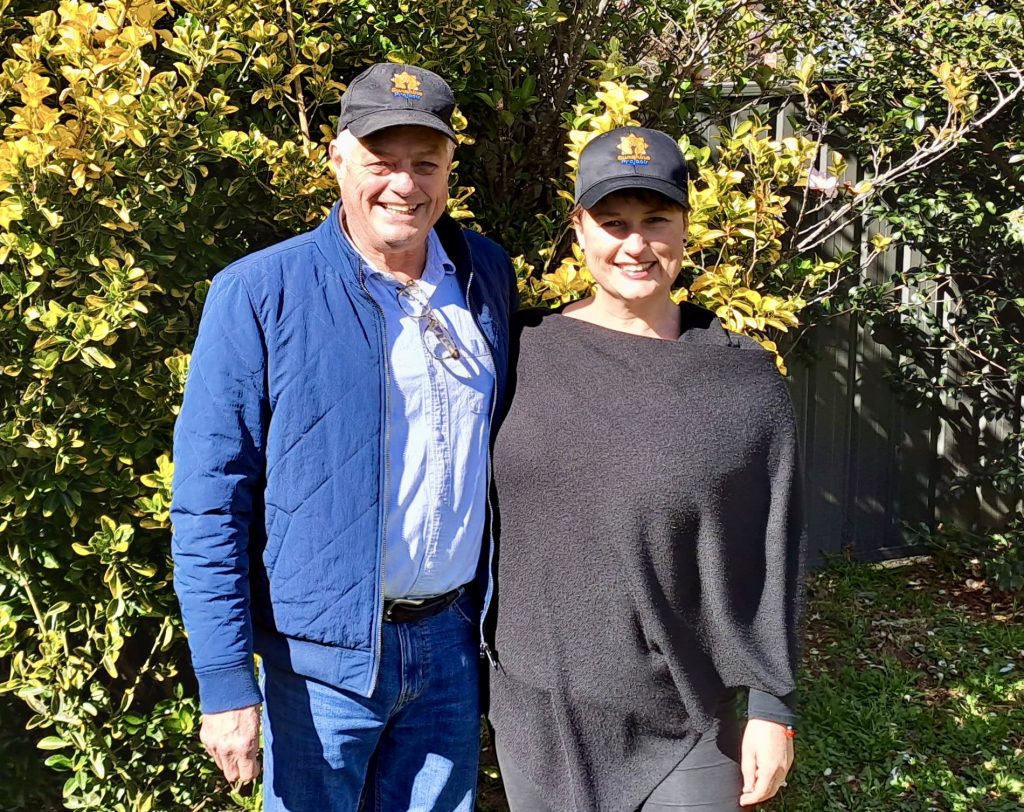 Winton and Bec Evers at their home in Wentworth Falls. (Hamish Dunlop)
The Sunshine Project supports Blue Mountains organisations to respond to climate change. The charity raises money to fund solar systems and resilience hubs. Sunshine also delivers educational workshops that address energy use in the home and explore the practicality of home solar installation.
---
Key Points:
The Sunshine Project is funded by EcoProfit donations, grants, and contributions from individuals, businesses like Bendigo Bank and organisations such as Rotary Katoomba.

EcoProfit is a business that specialises in integrating carbon accounting and financial accounting. EcoProfit donates $1 to the Sunshine Project for every carbon credit it purchases to offset its clients' carbon emissions.

Share this article:
---
I'm talking with Winton and Bec Evers at their home in Wentworth Falls. Winton is a board member of the Sunshine Project and Bec is the charity's Operations Manager.
Winton is an accountant by background. In the 2000s his office was high up in a North Sydney skyscraper. He tells me he used to watch smog appear and disappear over the city.
It made him consider how the financial management of commercial and government organisations could be aligned with supporting the environment. The answer to this question was establishing EcoProfit, a business that specialises in integrating carbon accounting and financial accounting. Winton and Bec are co-directors at EcoProfit. Alongside this, Winton and Bec created the Sunshine Project. EcoProfit donates $1 to the Sunshine Project for every carbon credit it purchases to offset its clients' carbon emissions.
Winton says the motivation to establish the Sunshine Project was to bring the benefits of carbon accounting back into the local community. "We work with businesses including some in the Blue Mountains. The donations to Sunshine mean the commitment by local businesses to the environment is made tangible in the local community."
Sunshine supports not-for-profit organisations to operate more sustainably, reduce their carbon footprints and be more self-sufficient in times of disaster. It does this by funding the installation of solar systems. The money comes from EcoProfit donations, grants, and contributions from individuals, businesses like Bendigo Bank and organisations such as Rotary Katoomba.
One of the businesses that contributes is run by Bec and Winton's teenage children, Angus and Mimi. They collect around 600 bottles a week from mini drop-off centres around Wentworth Falls. Fifty percent of the money collected goes to the Sunshine Project. "It's important that our children understand the importance of giving back to the planet," Bec says. "It's also important they can see that change can be enacted at a local level. There are things everyone can do to support planetary health."
Sunshine's support for Gateway Family Services
Sunshine has already enabled the realisation of a resilience hub. In 2020, it funded the installation of a 7.9kW solar system for Gateway Family Services in Blaxland. Supported by Trish Doyle and Susan Templeman, the charity received state and federal funding and combined this with a donation from EcoProfit.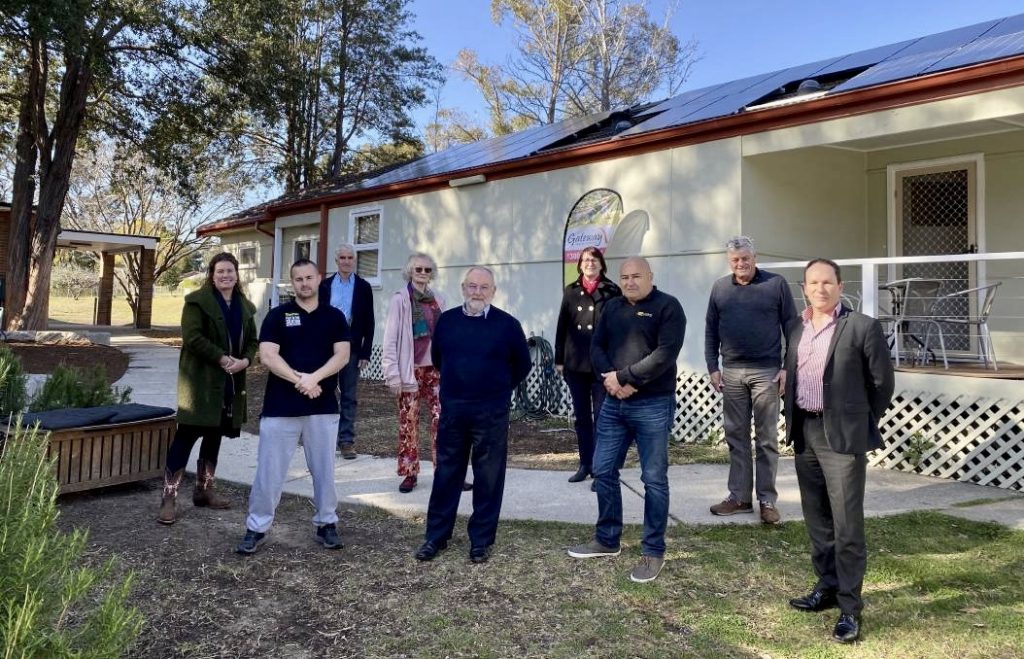 Back row: Bill McGhie (Sunshine Project Board Member). Middle row: Trish Doyle, Noni McDevitt (SP Board member), Susan Templeman, Winton Evers (SP Founder & President). Front row: Matthew Buckley (SP Board member), Gregory Lazarus (CEO of Gateway), Jim Hill (Proprietor of Nepean Solar Solutions), Jared Wilson (SP Board member). (Supplied)
Gateway offers a range of family support services and is one of the Rural Fire Service's Neighbourhood Safe Places. Solar panels combined with a Tesla Powerwall 2.0 battery mean that fridges, emergency lighting and IT equipment can continue to function in a crisis. Sunshine supported the purchase of a satellite phone and is raising money for a defibrillator.
Sunshine's current fundraiser is to provide solar for CatholicCare's Springwood Drop-in Centre
The CatholicCare Springwood Drop-in Centre was established in 2013 in response to the Winmalee fire. It offered immediate assistance to the community including food and other necessities. The team at the centre soon realised that counselling services were urgently needed. These services are central to how it has continued to support people, particularly those from lower socio-economic backgrounds.
Susan Butler at Springwood CatholicCare. (Hamish Dunlop)
Susan Butler who is managing the solar project for CatholicCare says, "First and foremost, the 11kW solar system will enable us to reduce our electricity bills. This will make more money available to fund our core services. It's also a step towards energy independence. With the later addition of battery storage, we can act as a resilience hub in times of natural disaster."
The carbon elephant in the room
Winton is aware of the controversy around carbon credits. Accusations of greenwashing have been levelled at companies such Gucci, BHP and Salesforce and he acknowledges organisations can market themselves as being green even though they have massive carbon emissions.
He says, "By 2030, the carbon trading scheme aims to address about 4% of carbon emissions in the world. This demonstrates the central activity of businesses needs to be reducing emissions rather than simply offsetting these by purchasing carbon credits."
Saving rainforests is a significant part of the growing offsets market – they are vital to limiting the extent of global warming. International organisations such as Verra facilitate projects that protect rainforests. They also calculate how much projects keep sequestered and sell the equivalent in carbon credits.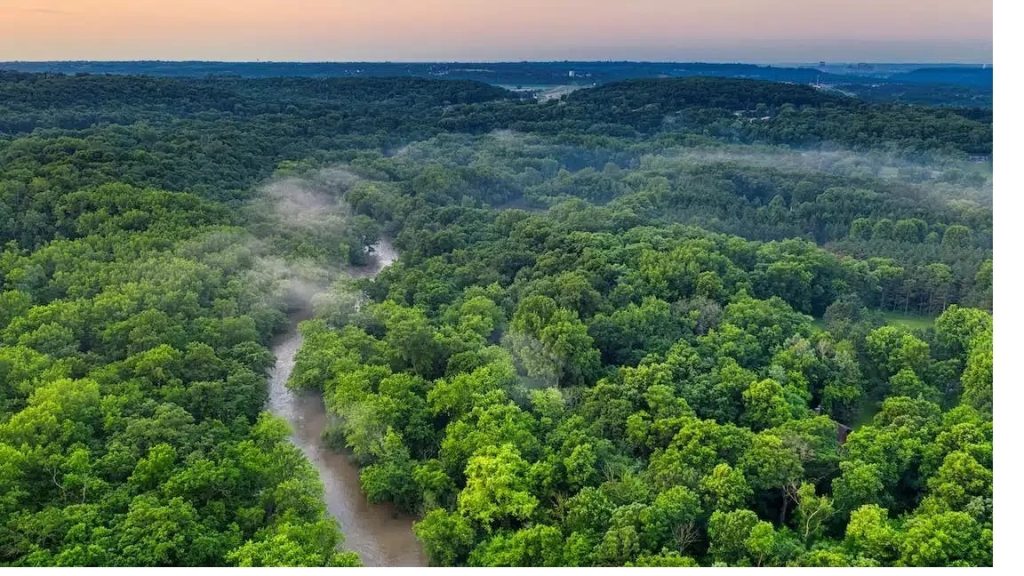 A contested Verra Jari Pará REDD+ initiative in Brazil's Amazon rainforest (carboncredits.com)
The success of carbon abatement projects and the accuracy of carbon capture estimates are hotly contested. In 2021 and more recently, researchers questioned the efficacy of many of Verra's rainforest ventures. In June of this year, Verra's CEO, David Antonioli left the not-for-profit amid concerns that Verra approved tens of millions of worthless offsets.
Winton says there are multiple pressures driving organisations such as Verra towards accurate representation of project effectiveness. These include public and academic scrutiny and internal drivers. Given recent peer-reviewed findings, the successful functioning of the $2bn voluntary carbon market has been called into question.
He thinks that looking across systems and supply chains is critical to accounting for carbon emissions and delivering benefits to all those that play a role. "We're currently looking at the renewables supply chain. For example, Sunshine is moving to ethically produced solar panels."
A personal and professional commitment to the planet
Winton and Bec are committed to supporting planetary health and disaster risk reduction. To inform his work at EcoProfit, Winton completed a Masters in Environmental Management and Climate Change. Between 2017 and 2019, he worked as the New South Wales Operations Manager for SecondBite. The organisation connects food donors such as Coles with not-for-profits that provide food to communities.
Bec has a background in human services. She identified early on the relationship between social inequality and climate change. Following the drought, fires and floods, she worked at Blue Mountains City Council as a Community Recovery Officer. The role involved responding to immediate needs such as housing and trauma. She was then able to support community projects across the Mountains, primarily through assisting with grant applications.
Lessons from the South Coast
During the tumultuous 2019/20 period, the family were on holiday at the South Coast. The nearest fire burnt down to the beach, cutting off Cungarong Point completely. They found themselves at the Manyana Community Hall. Winton recalls how under-prepared the community was to deal with any kind of disaster.
This spurred him to contact the Shoalhaven Council. He proposed future-proofing the hall with solar power. Bringing this awareness back to the Blue Mountains, Gateway Family Services, Earth Recovery Katoomba and Wentworth Falls Public School have all benefited from Sunshine's support. "It's a journey," he says. "We're finding as many ways as possible to support the community and the planet."
---
---
This story has been produced as part of a Bioregional Collaboration for Planetary Health and is supported by the Disaster Risk Reduction Fund (DRRF). The DRRF is jointly funded by the Australian and New South Wales governments.