Joshua Said from Flocking Adorable, Ria Andriani, Max, Tillie, Sunny and Mini (Kelly Peisley, Flocking Adorable)
Story by Ria Andriani
When I first moved to my mountain home during the COVID-19 pandemic, I couldn't believe my luck. There was so much space, and almost all of it was lush with greenery.
As a blind person, I get questions like: "how are you going to manage with such a big garden?" I tell people I like a touch of wildness. I get NDIS support to help maintain the yard, but I was also being pragmatic.
I never imagined that weeds could take the form of trees, with prolific seeds and suckering root systems; or winding vines with spiralling tendrils which I'm sure would give the Gordian Knot a fair competition. My garden turned out to be a thicket of local priority weeds.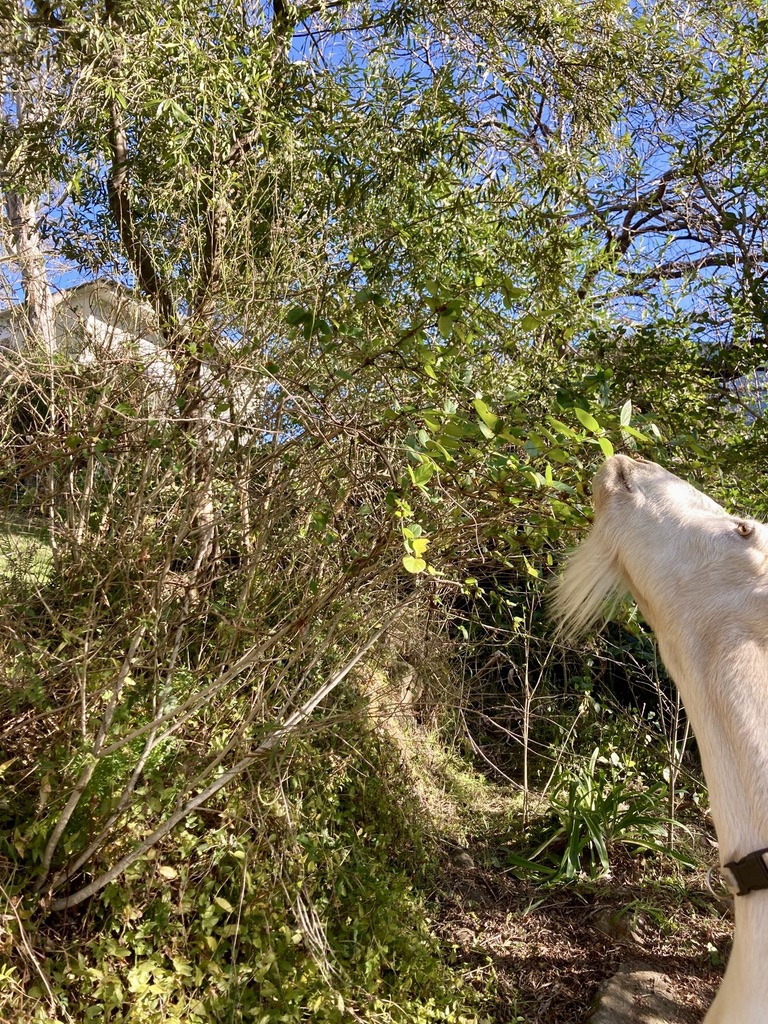 Goat eating from a branch (Ria Andriani)
There is an abundance of privet which embodies the command 'be fruitful and multiply'. Honeysuckles, trads, jasmines, ginger lilies, wild tobaccoes and many others thrive a stone's throw away from pristine rainforest in the gully below
Living in the Blue Mountains, I wanted to do my bit to look after the World Heritage National Park, such as not contributing to the privet seed banks. But I couldn't bear to use chemicals to clear this wild garden.
Paul, from Pro Edge Property who helps me maintain my yard, suggested I should get some goats to clear the thicket.
That's how I met Joshua Said from Flocking Adorable, and took up the offer of being the first person in his 'Help A Human' program.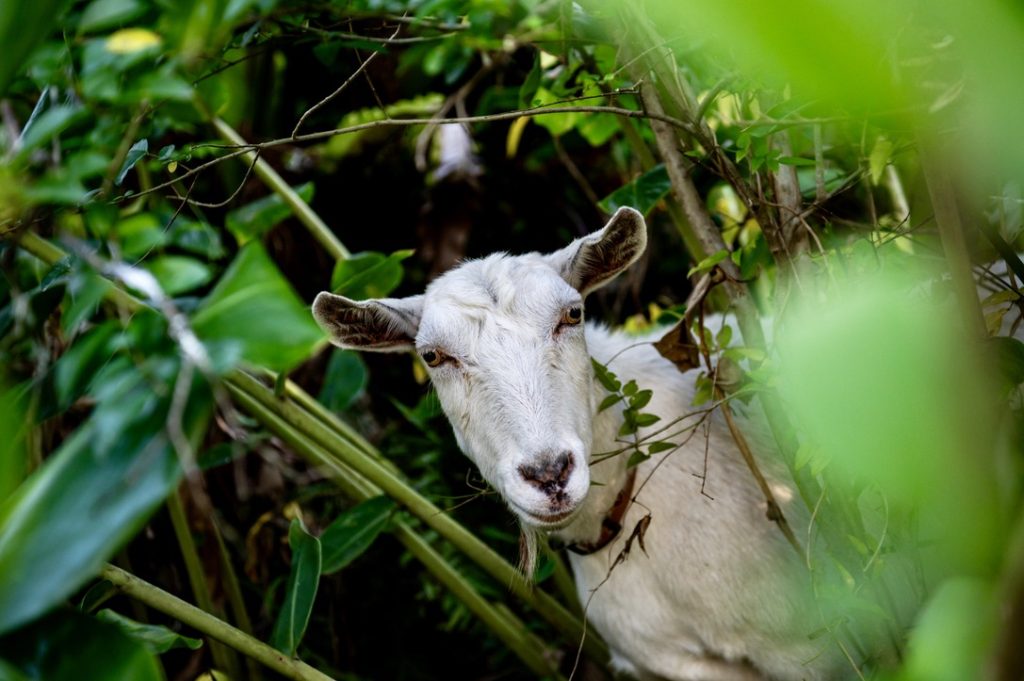 Goat peering out from the weeds (Kelly Peisley, Flocking Adorable)
'Help A Human' is Josh's community charitable initiative for his animal rescue service and grazing business. It offers support to people with a disability or disadvantage that inhibits them from caring for their property. Members of the community can nominate persons who can benefit from having some seriously cute grazers eat their way through weedy bushes, thus keeping them down without using chemicals. In cases where extensive scrub clearing and fence setup is required, the community can volunteer their time to help Josh do the work, or contribute collectively to pay for the costs of labour and equipment hire.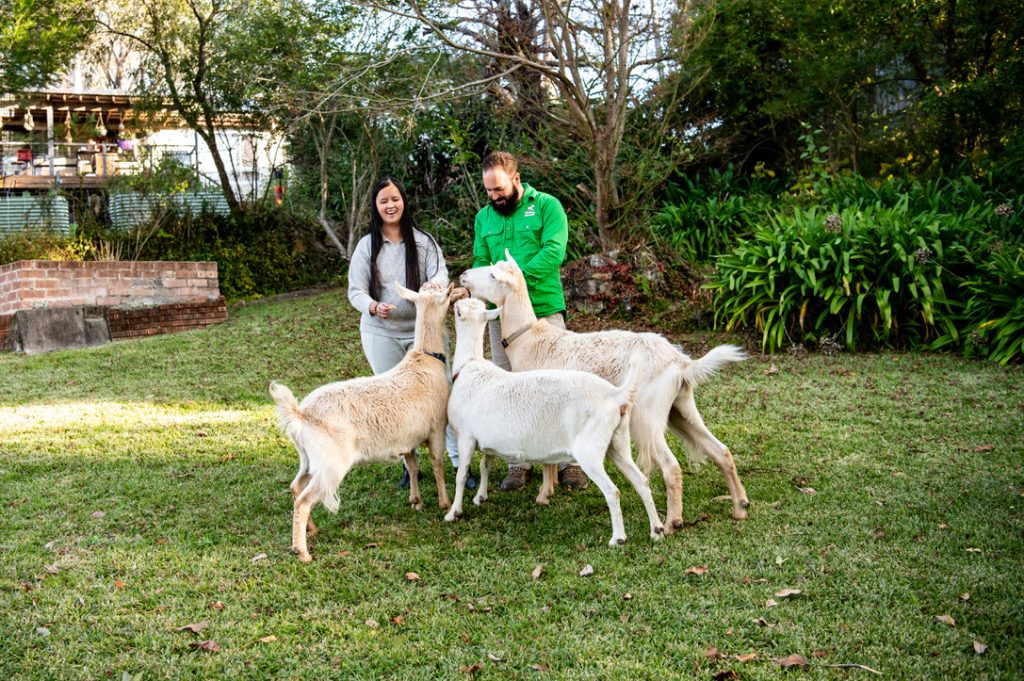 Ria and Joshua with Tillie, Sunny and Mini (Kelly Peisley, Flocking Adorable)
I was quite excited when Josh and his staff member Jen turned up and explained they were setting up an electric fence to separate the weedy part of the garden from my precious vegetable beds. Three goats arrived the next day, expertly herded to their section of the garden. There's Tillie, a white mama dairy goat, and her cream-coloured sun and daughter Sunny and Mini.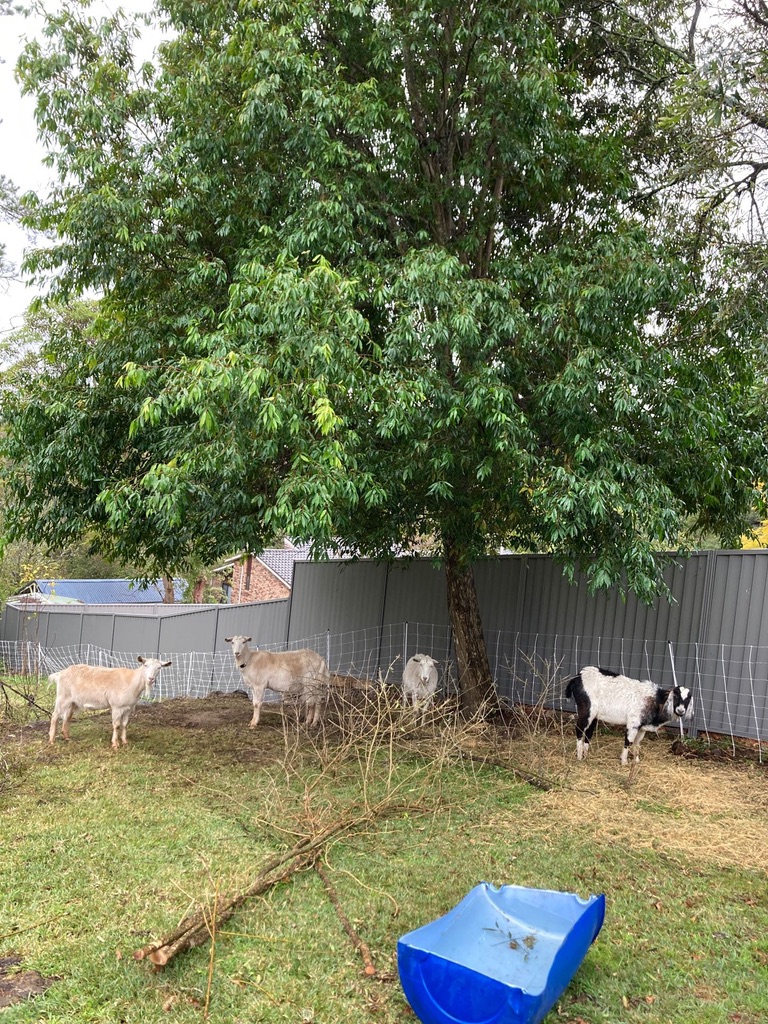 All four goats hiding from the light rain underneath large, green tree (Ria Andriani)
All of Josh's goats have been rescued – these ones are from a property whose owner had to relinquish them. Later, I also hosted Oscar, a black and white gentle buck with long velvety ears.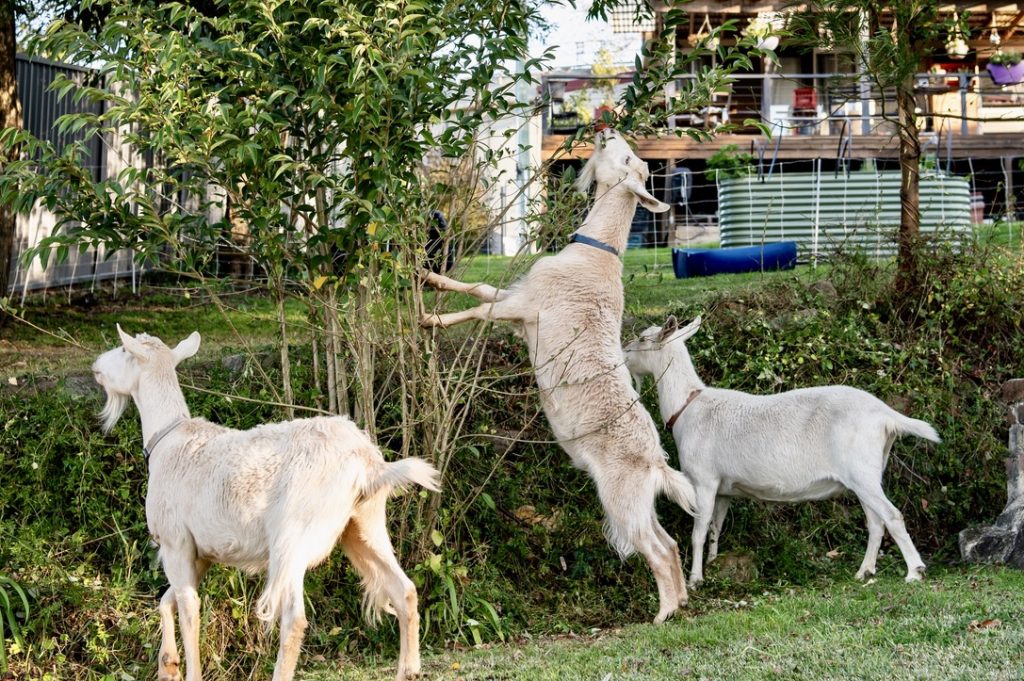 Tillie, Sunny and Mini hard at work (Kelly Peisley, Flocking Adorable)
"They're eating up the privets," said Trish, my support person and friend who watched them arrive. "Moving on to the African olive," she continued. "They're climbing down the retaining wall – oh, they're enjoying the wild tobacco."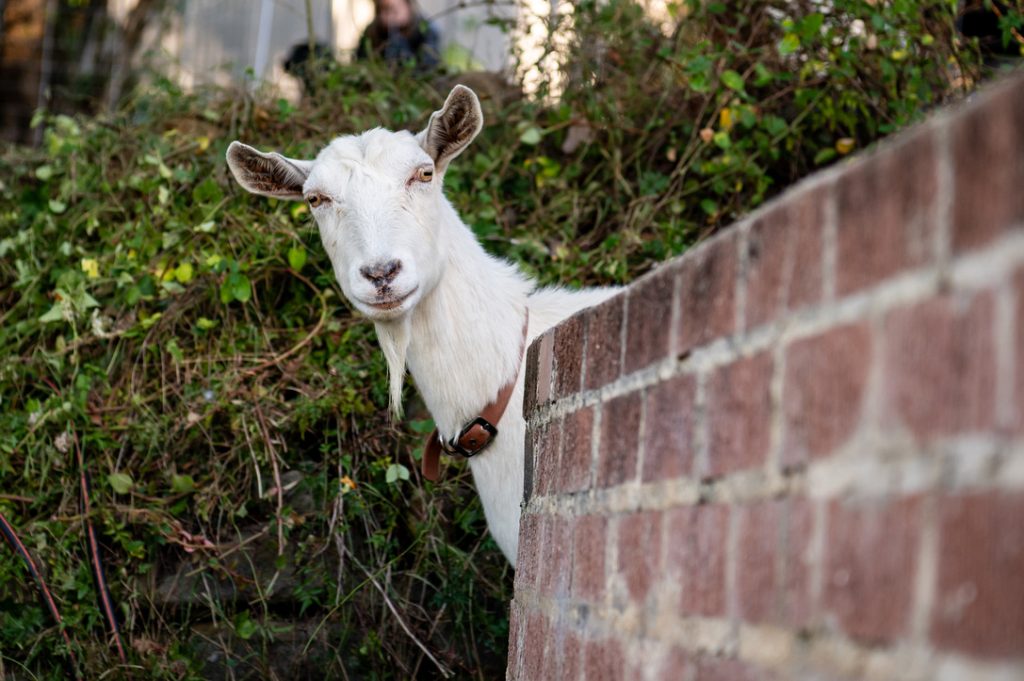 They all have personalities! (Kelly Peisley, Flocking Adorable)
I've been really touched by Josh's generosity. These goats aren't taken for granted. They have names and personalities, and to spend time with them is to observe a primal part of nature: the begetting of food from plants. This is how nutrients are cycled in a grazing environment.
During their stay, I'd often do my office work on a picnic blanket, listening to the munching of leaves. It's different to the sound of the sea or a waterfall which would fill up my entire ears, leaving awe in its wake. These sounds were gentle. I could tune them out when I wanted to, then bring them back in just by changing my attention level.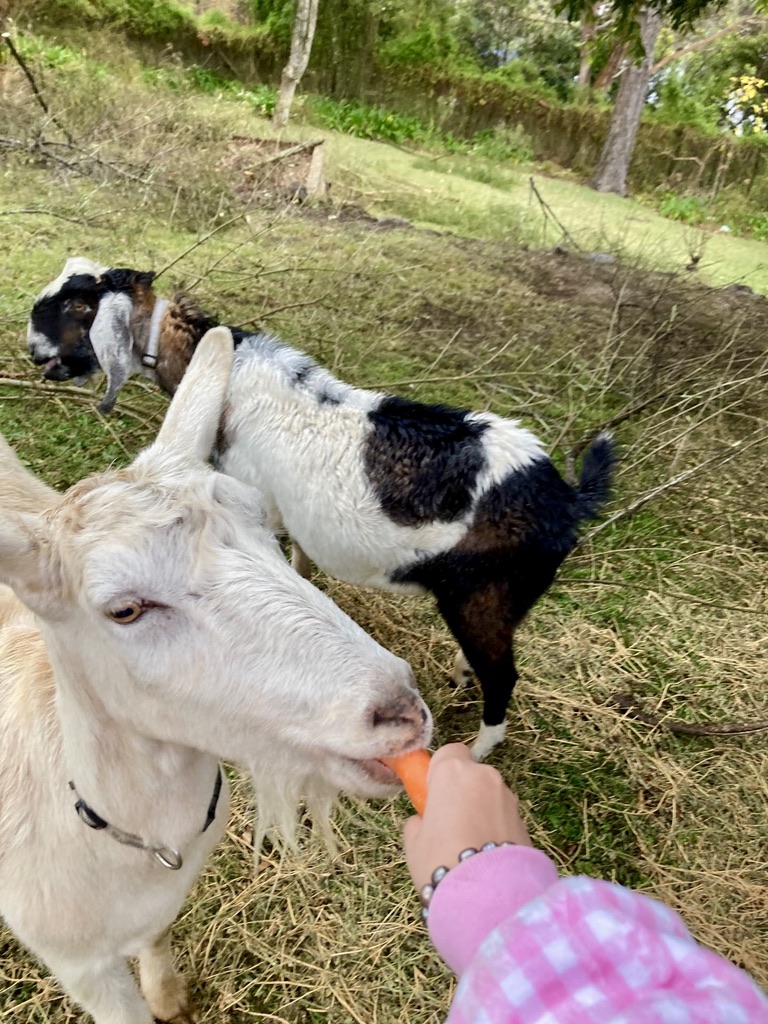 Tillie & Oscar: Tillie eating a carrot from hand while Oscar nervously hides behind her. Both are standing in dead grass. (Ria Andriani)
The goats were self-reliant, but after a week or two, they'd say hello when I come to the fence with some treats from the veggie bed, carrots or apples. They'd let me touch their pointy faces and long ears. Most importantly, they opened up a part of the garden I wished to know.
Ria Andrini is a writer and musician living in the Blue Mountains.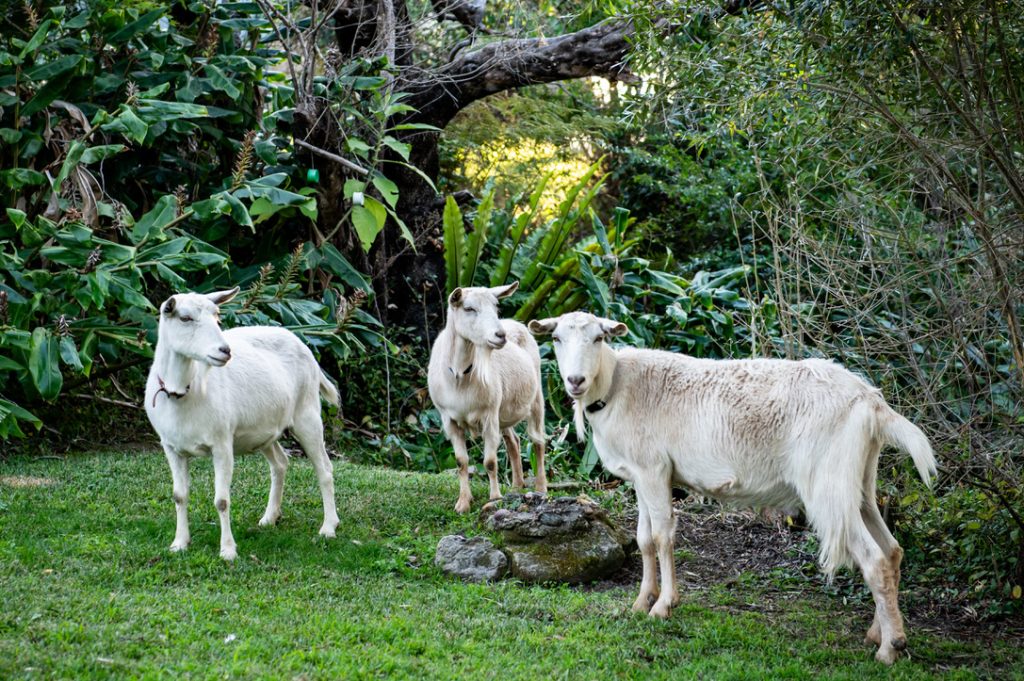 This story has been produced as part of a Bioregional Collaboration for Planetary Health and is supported by the Disaster Risk Reduction Fund (DRRF). The DRRF is jointly funded by the Australian and New South Wales governments.