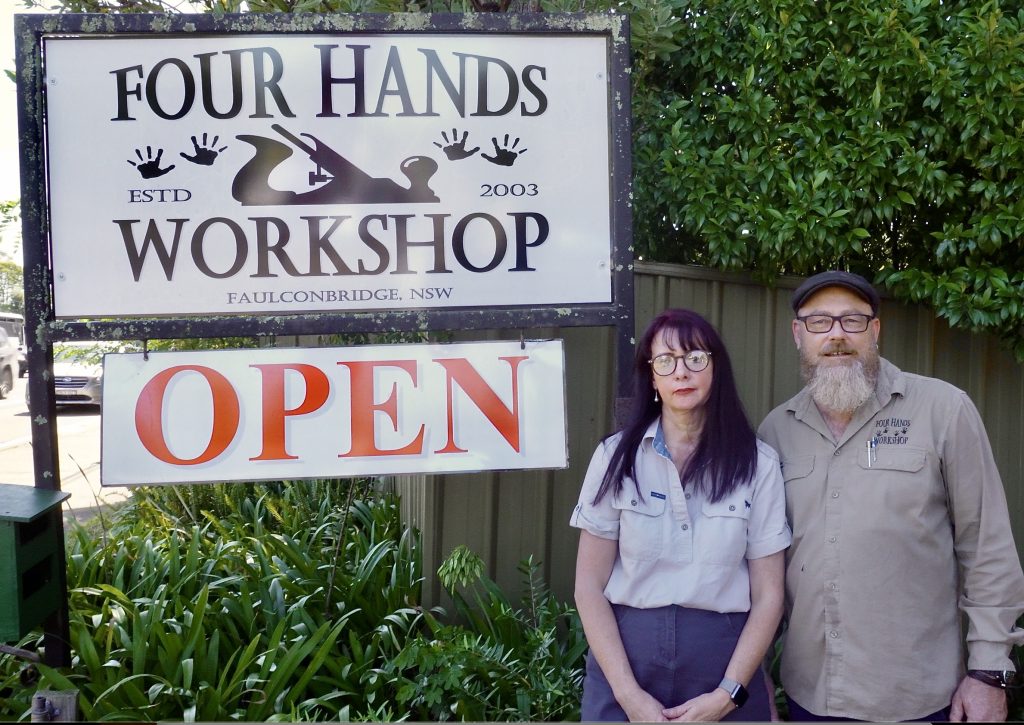 Rebecca and Mark Phelan
By Harry Afentoglou
The Australian Repair Shop sits at the side of the busy Great Western Highway in Faulconbridge. It is run by Mark Phelan, his wife Rebecca and a team of dedicated 'repairers'. Entering the shop, my eyes were drawn to the varied items on display: a wooden pendulum clock hangs on the wall, a cast iron 1930's Singer sewing machine sits ready to whip up its next creation, an antique hand-crank box telephone sits on the reception table ready to ring, and a ceramic figurine of former Prime Minister Bob Hawke smiles up at me.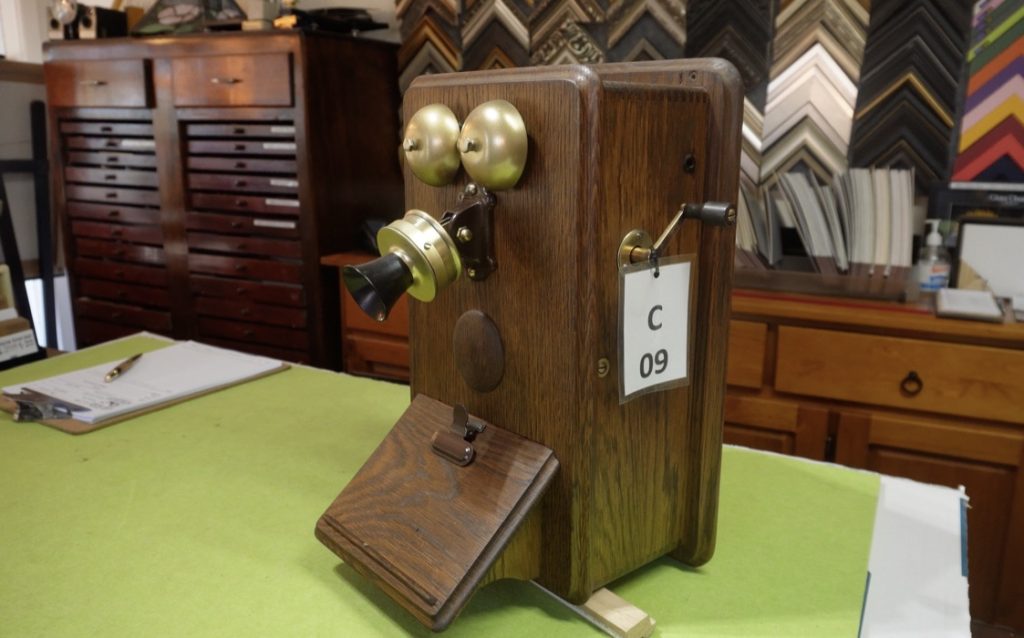 The recently restored hand-crank box telephone
Picture framing samples displayed along the wall give a clue to the origins of this enterprise. Mark explained that it was born out of a spur-of-the-moment decision. Ready to go into semi-retirement from the corporate sector, Mark planned a move to the Blue Mountains. He was looking for a location to start a tea house and considered the site of the current shop as a possible venue. He was as surprised as anyone to walk out from the viewing as the new owner of Picture It Framed Gallery: "I remember thinking on my drive back to Sydney: 'What have I just done? What am I going to do with a framing business?'".
Mark invited Steve, an old colleague who was also in semi-retirement, to join the business.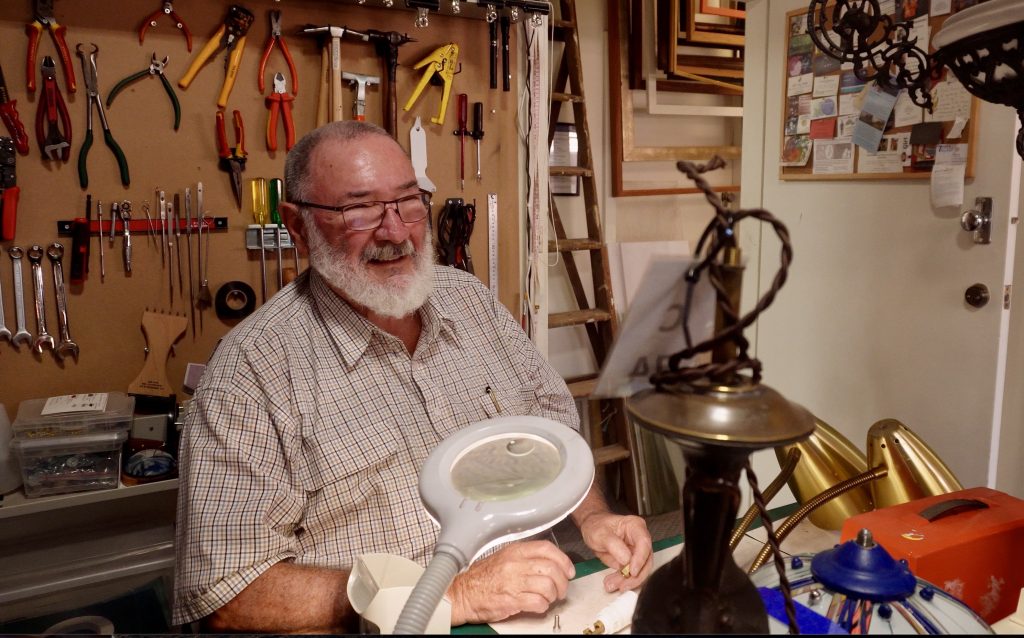 Steve, a founding member of the Four Hands Workshop
Starting a new framing business was hard with neither of them experienced in the field. Mark laughs at the memory: "The first week we didn't get one job, and the second week we got one job and probably made that job five times to learn how to do it. It was the most perfect frame that anyone had ever received in their whole life. We're engineers, not picture framers, not chippies, not anything like that. We built the frame as engineers and we still do it to this day, we build picture frames as engineers."
They quickly discovered that framing alone wouldn't sustain the business. They added a small workshop where they could carry out furniture restoration and basic repairs, putting their engineering skills to work. The Four Hands Workshop was born. They soon expanded from furniture restoration and upholstery, to almost any job that could fit through the front door.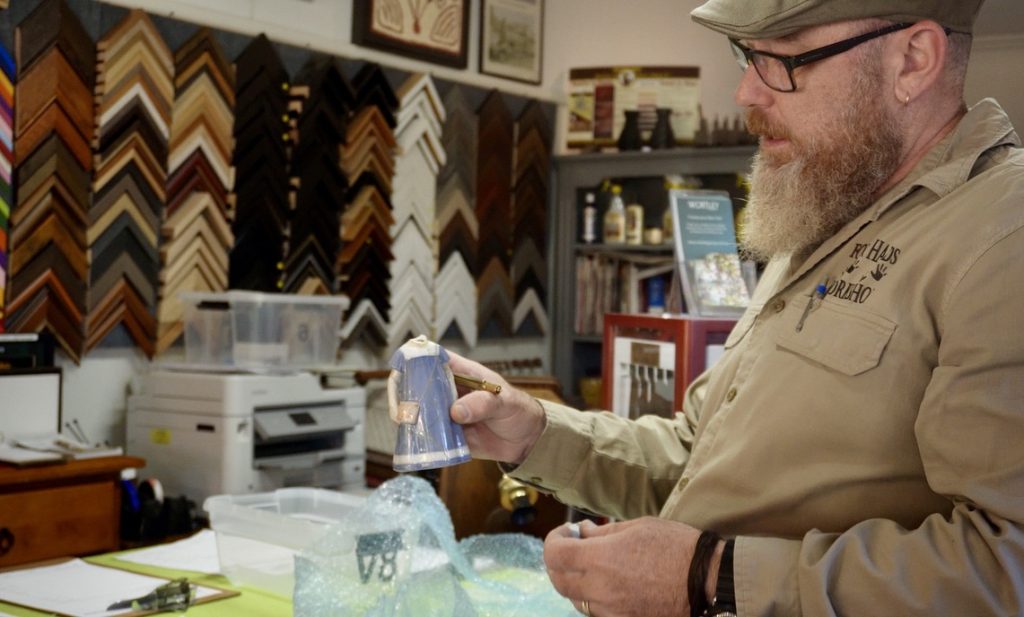 Mark says they have a go at fixing anything that can fit through the door
As word got out about the workshop, Mark and Steve discovered a real concern in the community about the throw-away mentality. Repairing, restoring and upcycling became the core purpose of Four Hands Workshop.
Over time, demand grew beyond what Mark and Steve's four hands could manage, so Mark put out a call. With an additional six people bringing the team to eight members, they're now a 'sixteen hands' workshop and their skill set has expanded, allowing them to take on everything from electronic repairs, audio engineering, ceramics and cabinet-making, to blacksmithing and foundry services.
They're even offering young school leavers an opportunity to get hands-on experience of trades at the Workshop.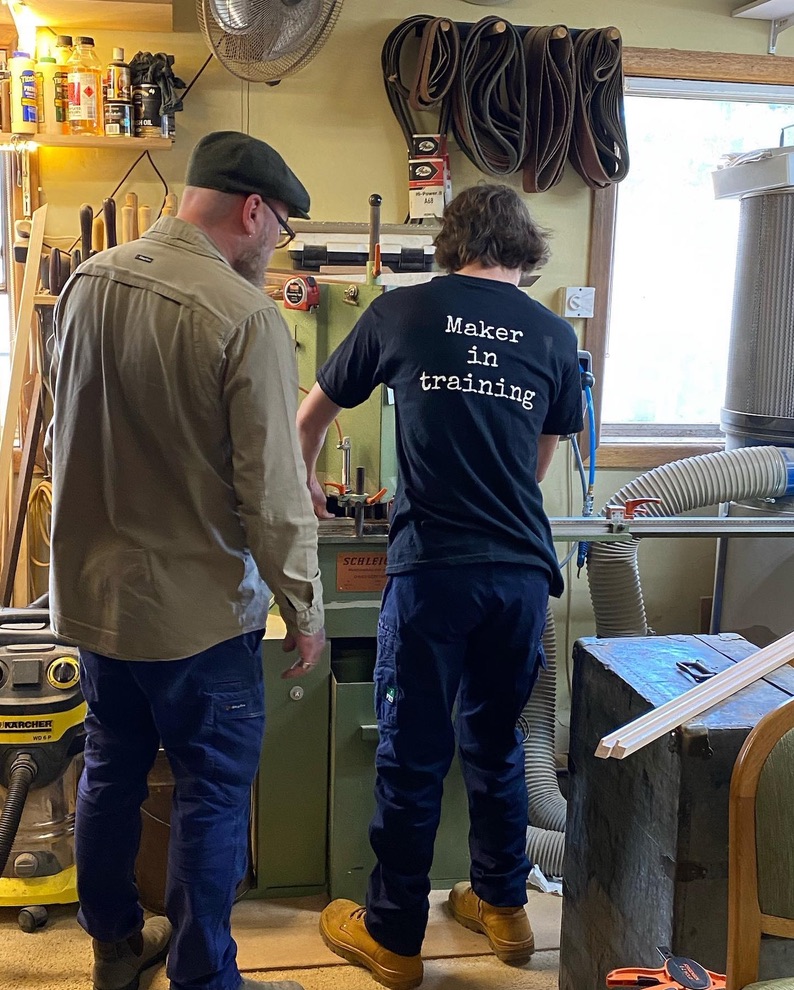 A great opportunity for young people who love working with their hands (The Australian Repair Shop)
Mark thrives on the wealth of knowledge, skills and learning they gain from each other and from the community: "There are so many clever people in the community with information to share, so we are always learning – learning new things, new trades, new processes, new information."
As the business has grown, they've invested in new equipment such as 3D printers. Mark explained: "When we can't source a part, we make a part. We may combine some of our traditional componentry with parts that we have designed and manufactured on our 3D printers." Mark gave me an example. A regular customer happened to mention that her microwave had a door release that didn't work. Mark encouraged her to bring it in. Once they found the broken piece, they drafted a replica on the computer, and 3D printed it. The new part fitted perfectly and the microwave was restored.
The latest 3D printing challenge is a 1921 Woodstock typewriter that was used for war correspondence. The spools for the ribbon had to be replaced to make it functional again, but being an American typewriter rarely used in Australia, there were no parts to be found. Mark explained the process they went through to find a solution: "We found the original patent for the spools from 1921, so we are actually going to make new spools using 3D printing and metal componentry."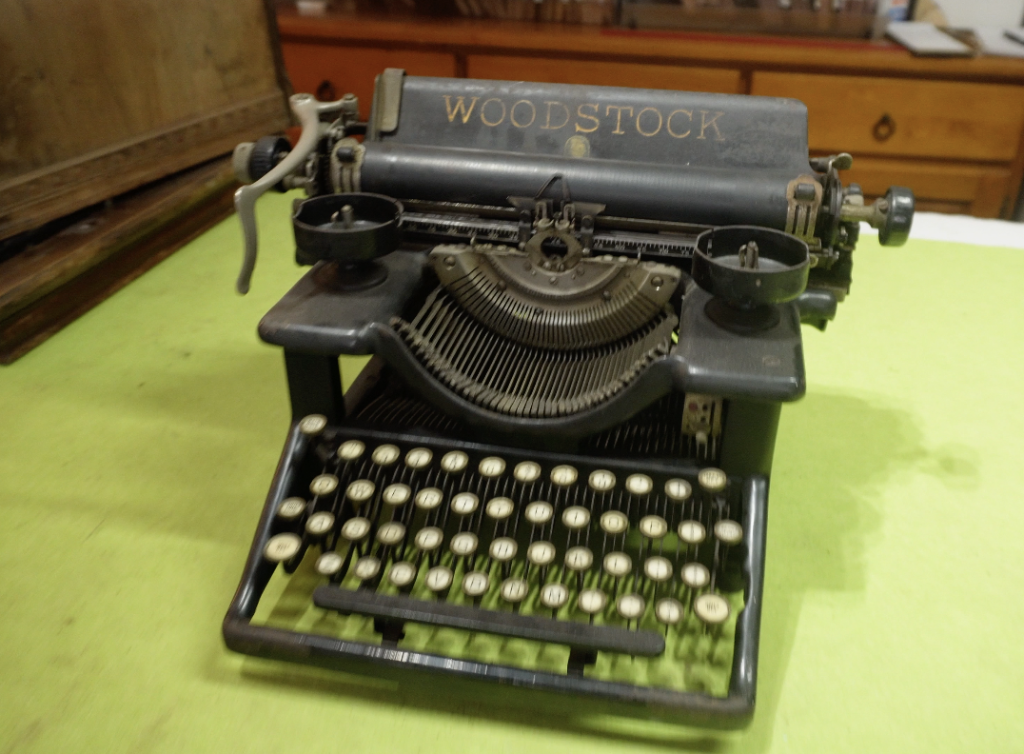 The old Woodstock typewriter.
Mark sees the workshop as something of a social enterprise, where part of the DNA is to reduce landfill. To combat waste being thrown out he is putting out a call to arms to the community to consider volunteering in a resource recovery project: "If someone has a toaster it literally just ends up in landfill, so what do you do with that? We've got the tools, the space, the desire to strip that item into its components, put the plastics in the plastics bin, the metals in the metal recycling bin and minimise what ends up going in a hole in the ground."
The local community plays a crucial role at The Australian Repair Shop, and the benefits go both ways. Just like the constant movement of the cars up and down the highway outside, the workshop is a hive of activity. People are always dropping in to have a quick chat, share some knowledge, or pick up an odd screw or nut they can't find. Additionally Friday nights have now become a bit of a men's shed for old Tradies!
Mark said jokingly, "We fix humans too."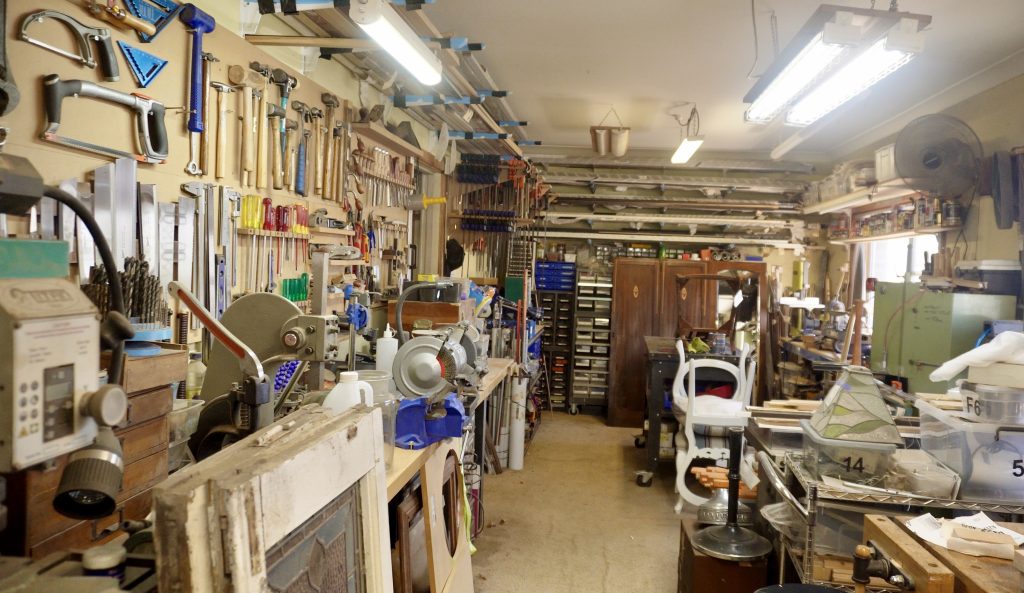 This story has been produced as part of a Bioregional Collaboration for Planetary Health and is supported by the Disaster Risk Reduction Fund (DRRF). The DRRF is jointly funded by the Australian and New South Wales governments.