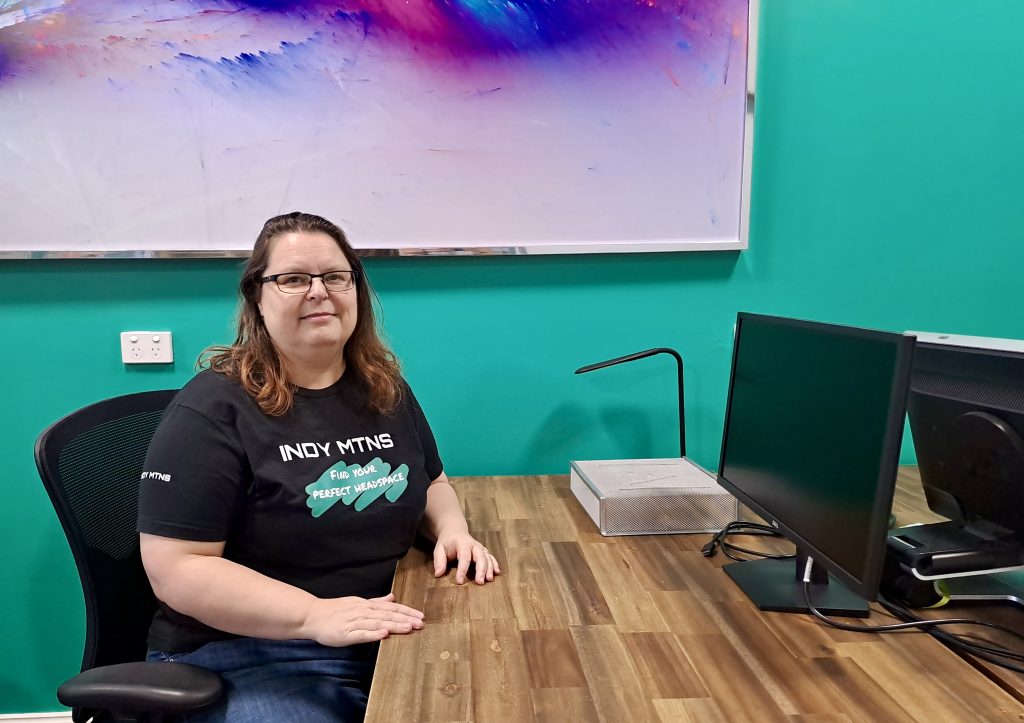 Emma at her computer
Story and photographs by Madison Roland-Evans
In 2019, Emma Madison was commuting to the city full time to work at Screenrights Australia.
"I was getting on the train in the morning at six, and not getting back till six… What more do you have left in your tank to do anything?"
She tells me that having commuted for four years since moving to Springwood, it was a struggle to find community.
Her solution was to create Indy Mtns, a bright, airy co-working space above Springwood's main street.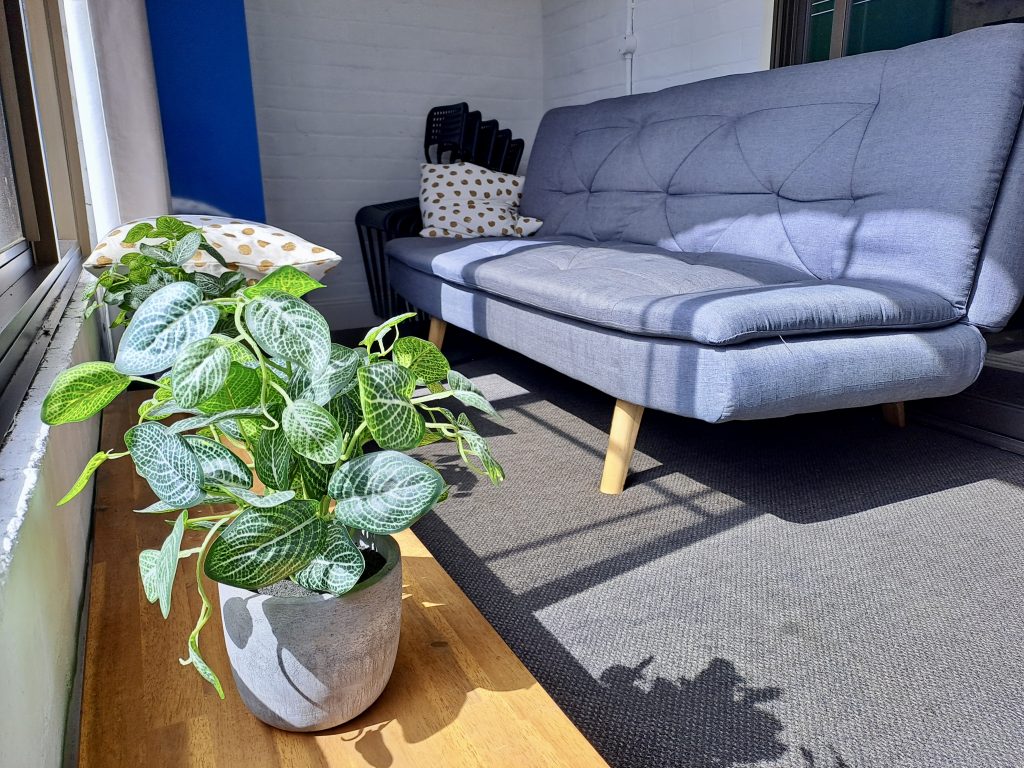 Indy Mtns "relax spot"
Emma believes that the community she was looking for equates to the kind of connection everyone needs, particularly if you're running a small business.
Since she launched the space, the Blue Mountains business community has been hit hard repeatedly. Not just by the pandemic, but by the consequences of being declared a natural disaster area five times in less than three years – once for fire, and four times for heavy rains.
Through this, she has learnt that a co-working space can make a profound difference.
"If you're a local business here, say on the high street of Springwood, and you don't have connections with other people, it's very isolating and lonely. And then you're not getting feedback or integration of ideas or encouragement."
According to Emma, becoming part of your community is also good for your business:
"People will do business with someone, not because they think they're good at it, but because they trust them. And the best way to establish trust with people is just to spend time with them."
As well as building trust, research shows that businesses with more diverse, inclusive networks are best equipped to respond to, and repair from, crises. Similar to co-working, professional networking and training events can generate a unique form of social capital. This in turn influences community and business capacity to respond to disaster as it unfolds, and bounce back afterwards. Emma's experience bears this out: "A connected community is a resilient one."
Some practical tools are being developed for the Mountains. BusinessBM has worked with social enterprise Resilient Ready to develop the Blue Mountains Business Resilience Roadmap. It includes up to 16 mini learning modules and is available to local businesses free of charge until the end of 2023.
Emma's experience in the corporate sector has seen her educating and advocating for the local business community. This includes teaching one of the modules in the Roadmap. She tells me that small business owners shouldn't have to reinvent the wheel when developing processes that work for them. Towards this end, a co-working space like Indy Mtns gives people a glimpse into how other people are approaching their work or business.
Emma mentors local business owners, and helps run the local chapter of networking and training group Women with Altitude. She has just launched an entrepreneurial discussion space at Indy Mtns called The Loop, where locals can receive professional feedback on a business idea. There's a lot happening in this little shared space!
Through Indy Mtns, Emma has created a platform for small business owners to build connections, establish trust, and foster a sense of community. The results are a testament to the power of co-working spaces in promoting collaboration and entrepreneurship.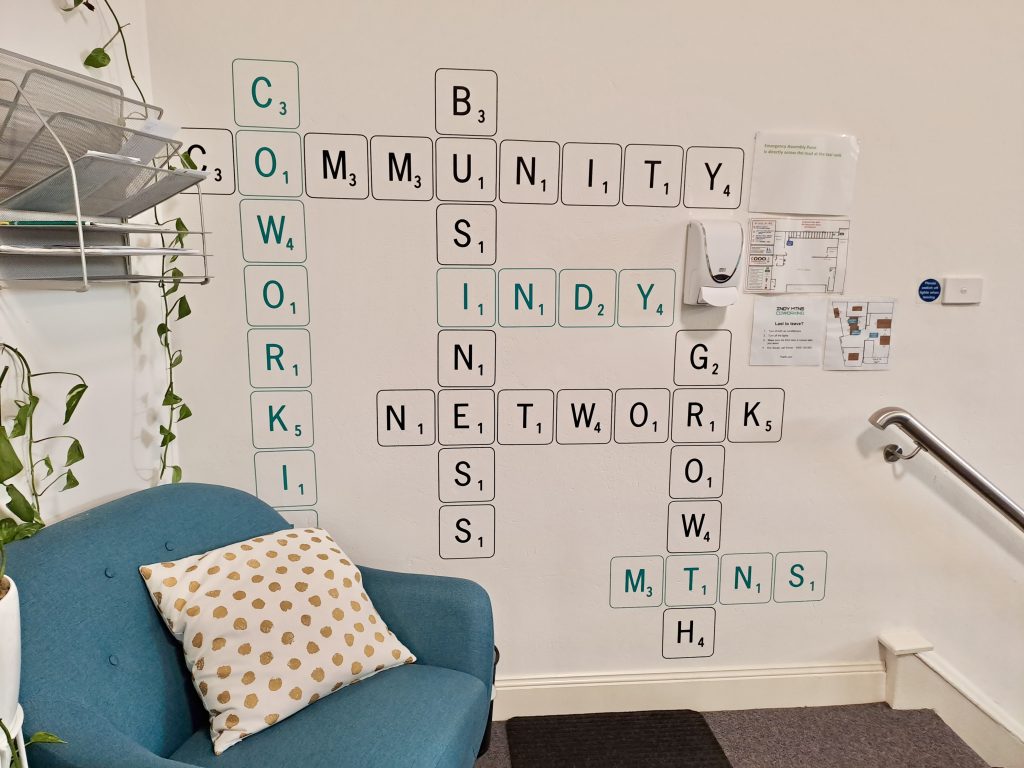 Indy Mtns Co-working wall
*Aldrich, D,; Ingham, V; Hanvin, R. Getting Connected: Using networks to build business community resilience in the Blue Mountains. White Paper June 2022. Available at https://corporate2community.com/wp-content/uploads/2022/06/White-Paper-Getting-Connected.pdf
This story has been produced as part of a Bioregional Collaboration for Planetary Health and is supported by the Disaster Risk Reduction Fund (DRRF). The DRRF is jointly funded by the Australian and New South Wales governments.