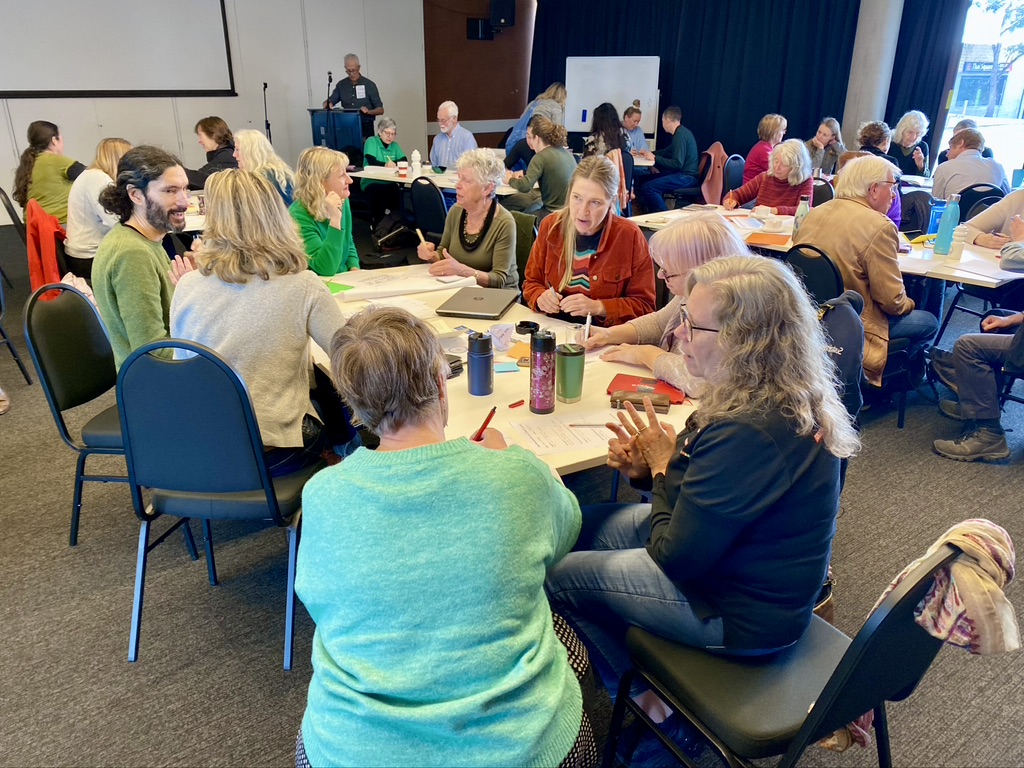 Participants in the Community Net Zero Workshop in Springwood.
Story by Hamish Dunlop and photographs by Lis Bastian
Having been declared a natural disaster area five times in just four years, once for fire and four times for extreme wet weather events, Blue Mountains City Council is reaching out to all sectors of the community to join in creating a Community Net Zero Strategy and Action Plan.
Its goal is to complement Council's Water Sensitive Blue Mountains, Zero Waste and Biodiversity strategies to reduce carbon emissions and begin to cumulatively take the action needed to reverse climate change and the natural system decline that's driving so many of these natural disasters.
At a Community Net Zero Plan workshop in Springwood on Sunday 6 August, 46 participants from all walks of life who have been taking action towards Net Zero, gathered to brainstorm a way forward with Council.
Speakers at the event included Blue Mountains City Council CEO Dr Rosemary Dillon, Rob Morrison (Program Leader Sustainability and Waste), Lis Bastian (Senior Lead, Blue Mountains Planetary Health Initiative), Dr Jenna Condie (Co-leader Blue Mountains Australian Parents for Climate Action) and Phil Spiers (Chief Enabling Officer of the upcoming Buy Into Sustainability event to be held in Katoomba in December).
Robert Morrison, Program Leader Sustainability and Waste for Blue Mountains City Council, giving a presentation on the progress Council is making and outlining why we all need to work together to reach net zero emissions in the City.
The key focus of the workshop was to highlight that we're all in this together and that Council is both an integral part of the community and a facilitator to encourage and support action and collaboration between individuals, community groups, not-for-profit organisations, businesses, educators and researchers, and other levels of government.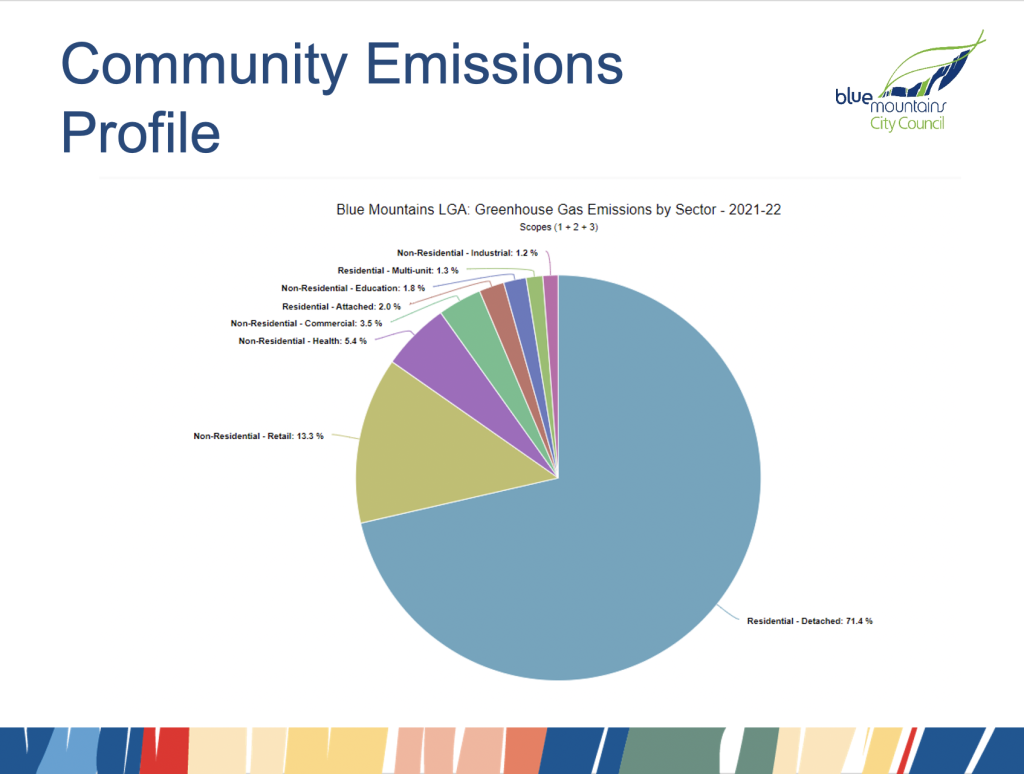 A slide from Rob Morrison's presentation: Residential emissions make up almost 75% of the Community Emissions Profile (71.4% residential detached, 2.0% residential attached, & 1.3% residential multi-unit dwellings).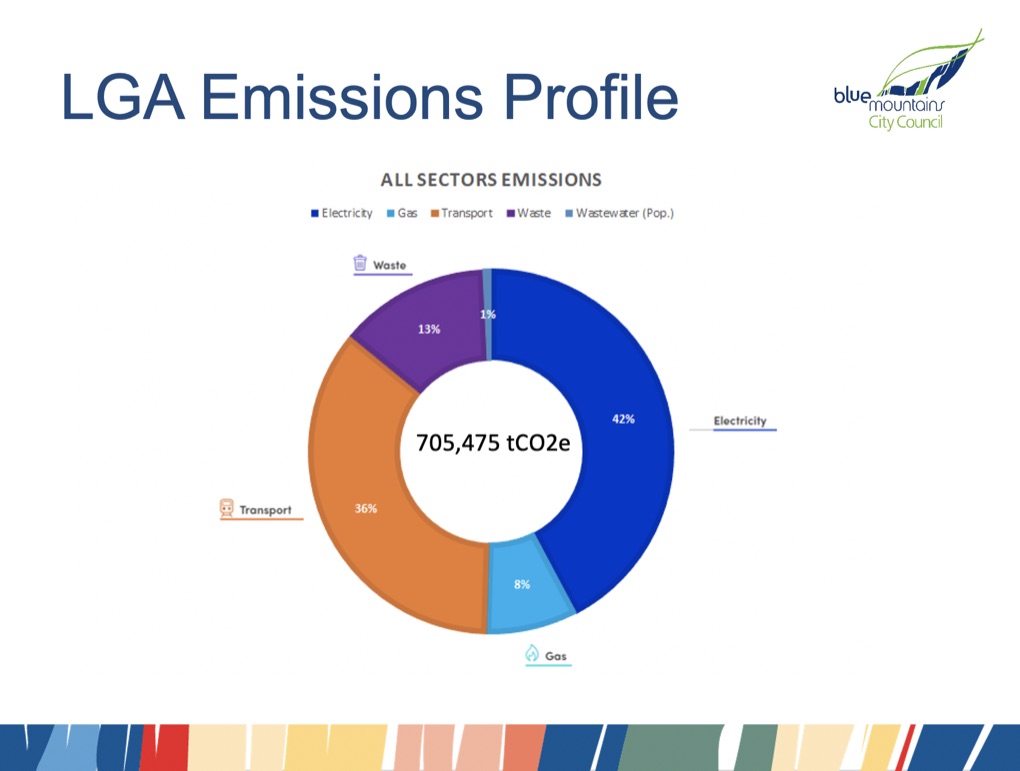 A slide from Rob Morrison's presentation: Electricity makes us 42% of the our Local Government Area's Emissions Profile, with transport a close second at 36%.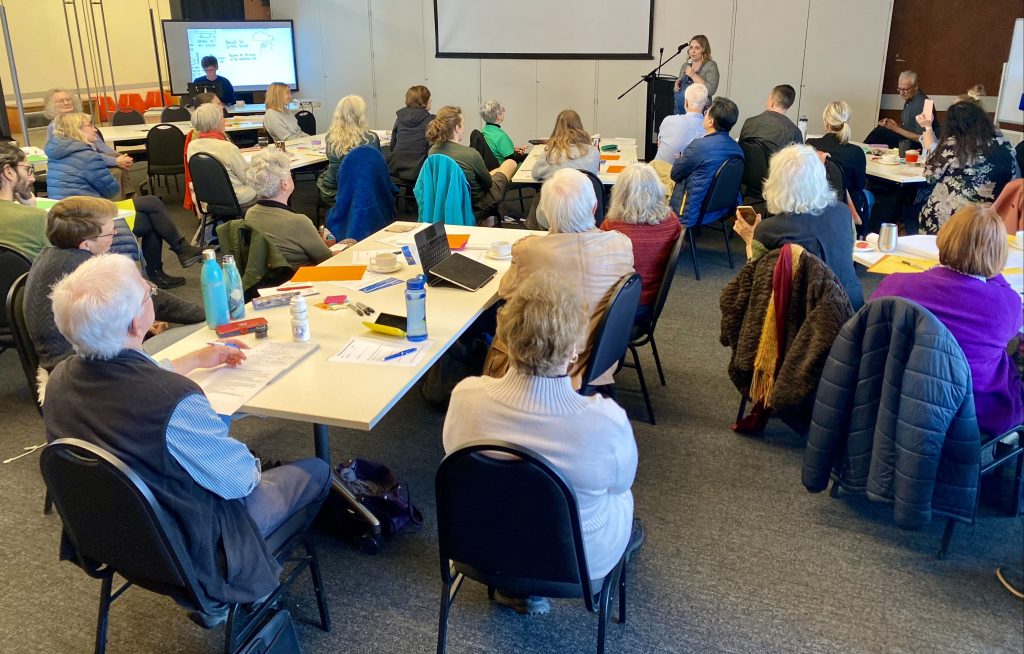 Dr Jenna Condie from Blue Mountains Australian Parents For Climate Action spoke of creating inclusive spaces for people to challenge their ideas and take action, especially spaces where parents with young children can participate, like the upcoming Spring Kids' Clothes and Toy Swap on 10 September.
Calling on the whole community to contribute to the Community Net Zero Survey
A Community Net Zero survey is now open for comment on Council's Have Your Say page. The Net Zero team are encouraging the wider community to contribute to the survey so that they can take everyone's experience and expertise on board as they develop realistic actions and timeframes to reduce emissions, improve health and quality of life, and find ways to reduce the cost of living.
The goal is to create a zero emissions future together.
The Survey takes under ten minutes and will be critical for Council to understand what people are already doing, what they'd like to do, what they'd like Council to do, and what barriers are preventing them from taking action.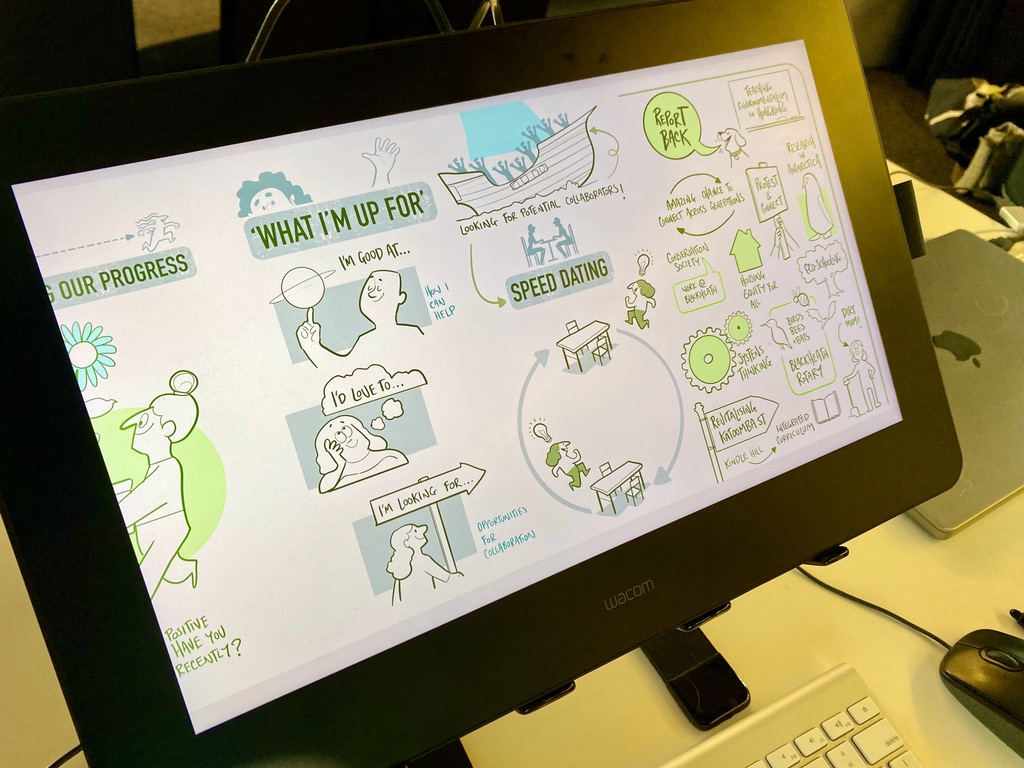 Artist Bill Hope was the scribe for the event.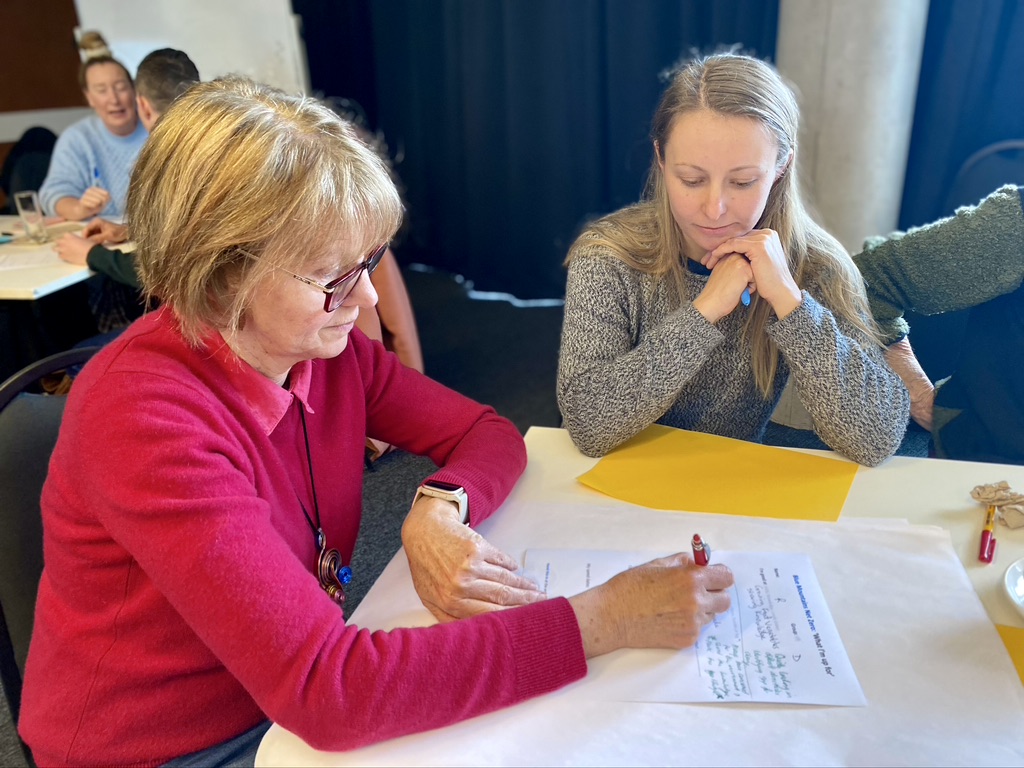 Participants brainstorming what they're willing to commit to.
Having adopted the target of net zero emissions from operations by end 2025 Council is now well placed to work with the community to identify how best it can support this urgent social transition.
According to Kate Leach, Council's Net Zero Project Officer, "There are various ways we can work with the community. We can provide education, training and support with workshops. There are also good resources on the Council's website that can be accessed via the Action on Climate Change page."
Rob Morrison highlights that 'facilitating collaboration, creating opportunities, strategising, advocating, lobbying, providing infrastructure and other services, as well as providing support for strategy development and management, are also key tools in how we can participate in community emissions reduction."
The Council is expanding its team to meet the demands of the community Net Zero journey. A Net Zero Project Officer position has been created to support the strategy development and implementation. A Circular Economy and FOGO officer has also been created to roll out a new food organics & garden organics (FOGO) waste service by 2026 and support the development of circular economy projects in the community.
Community projects
Kate says there are many different community actions already in train to help reach a target of community Net Zero emissions. "There are people moving from gas to electric hobs. There are community waste initiatives such as volunteer-run recycling at festivals. People are composting. There are charities like the Sunshine Project which is funding solar systems for community organisations. Landowners are using regenerative farming techniques. Landcare and Bushcare volunteers are contributing directly to keeping carbon locked up in swamps, soil and trees. There are so many ways we can make a difference at a local level."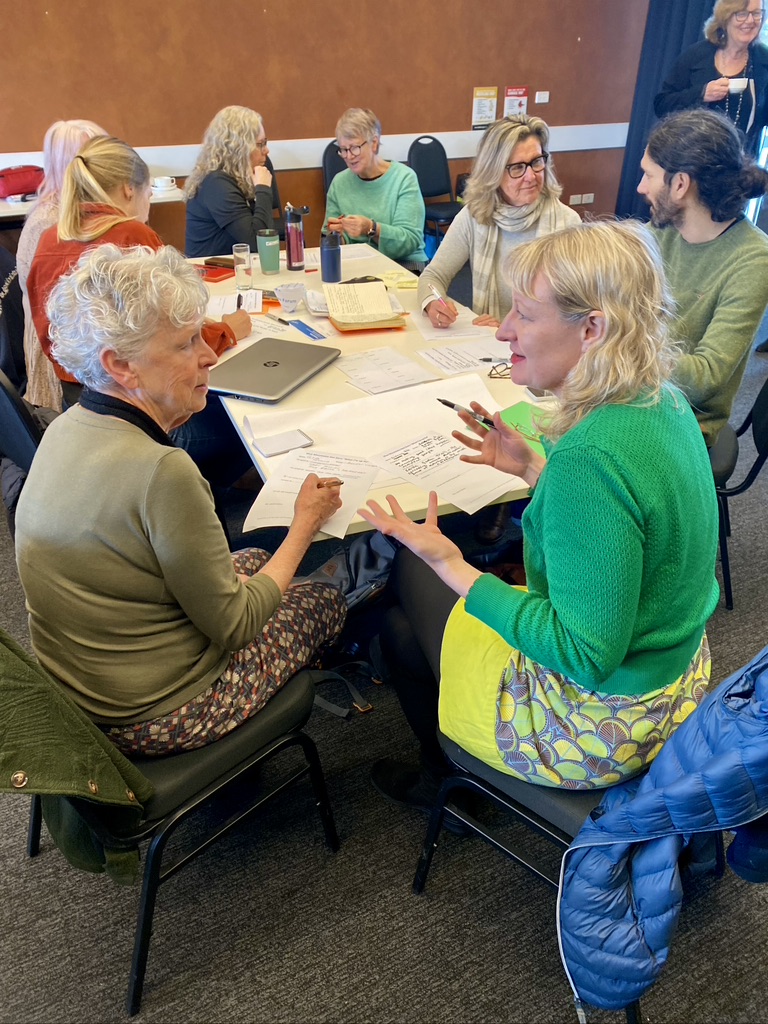 Many new connections were made at the workshop.
More about Council's Net Zero journey
In 2016, Blue Mountains City Council adopted a Carbon Abatement Action Plan. The plan laid out a commitment to reduce operational carbon emissions. In 2021, the Council joined the Cities Race to Zero, adopting the target of net zero emissions by the end of 2025. The Race commits the Council to expanding its focus on community emissions. Energy initiatives have played the central role in Council's emissions reductions to date. Kate says, "One of the major projects has been to update street lighting to LEDs. This has resulted in significant energy savings. To support community emissions reduction, Council decided that 50% of those savings would go towards funding a Net Zero plan. The conversation with community through the workshop and how that continues, will enable us to understand how best to use the resources we have."
Large numbers of solar panels have been installed on Council buildings including the Cultural Centre, Katoomba and Springwood Aquatic Centres, Blaxland and Katoomba Waste Management facilities and the Springwood Hub. Rob says that the combined total of over 300 kW will reduce emissions by approximately 313 tonnes of CO2e per year.
One of the most significant actions the Council has taken is to move to 100% renewable electricity. Together with 34 other Councils, Blue Mountains City Council entered a Local Government Procurement (LGP) Renewable Energy contract with supplier Iberdrola. The power is sourced from Iberdrola's renewable energy projects including the 113MW Bodangora Wind Farm near Wellington (between Orange and Dubbo) and the 227MW Collector Wind Farm near Goulburn.
Rob says, "It was extraordinary to visit the wind farm and see how the electricity we are using is generated. Renewables play a key role in the Council's net zero emissions by 2025 strategy. The contract provides a reduction of up to 6800 tonnes of CO2e annually. This is equivalent to taking almost 1000 homes off the grid."
A groundswell of actions
I ask Rob what he thinks the most important community actions are and he says, "All of them." The Blue Mountains has always been a place where environmental concerns and initiatives have easily taken root. Rob says that while this is the case, we can look outwards too to be inspired by what other people, organisations, and government are doing to address carbon emissions.
He says that councils are leading the charge across Australia to make a difference. "We can learn from each other. There are good examples where councils are supporting, coordinating and enabling actions across the community." The City of Mitcham is one example. "They promoted a community bulk buy for solar and batteries which saw significant uptake of solar and battery storage. This is just one example though. We don't want to limit our role in how we participate in supporting our community."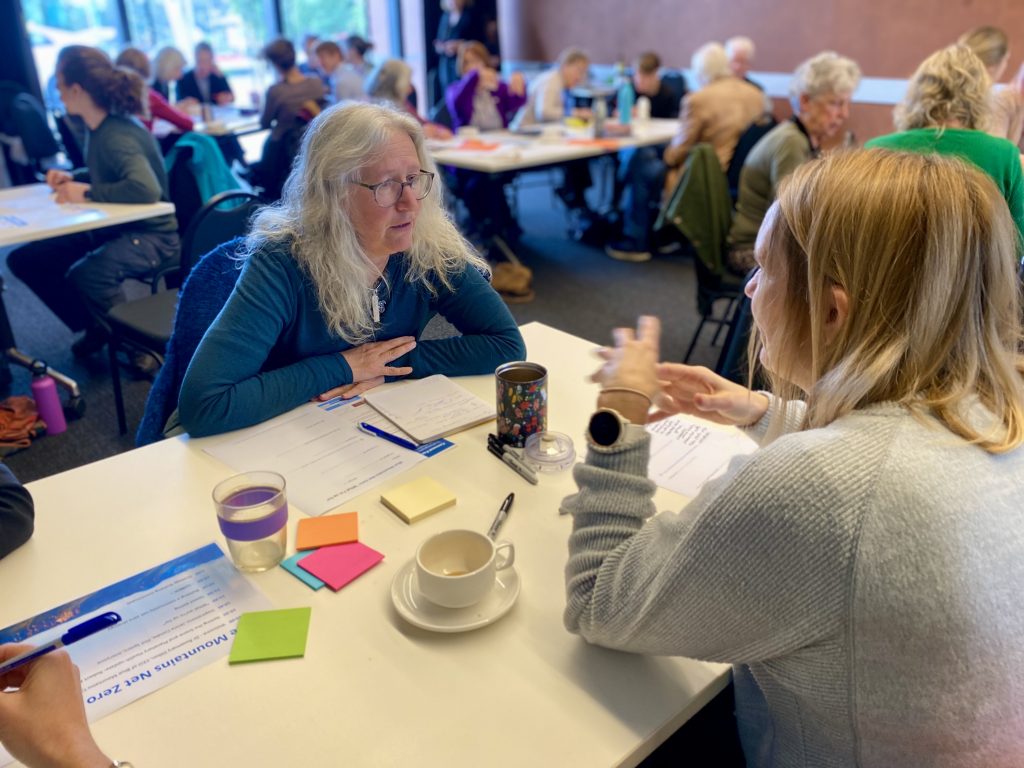 Participants engaging with ideas and each other.
Reflecting on the workshop Kate says she came away inspired: "People engaged with ideas and each other. There's a huge amount of passion and to see opportunities and possibilities arising out of that was exciting. It makes me hopeful too. It feels like we're turning the corner from anxiety and despair to collaboration and action."
I am reminded of Ben Lee's lyrics in the 2006 song:
The city's changing
'Cause we are changing,
And we're all in this together.

This story has been produced as part of a Bioregional Collaboration for Planetary Health and is supported by the Disaster Risk Reduction Fund (DRRF). The DRRF is jointly funded by the Australian and New South Wales governments.